December 5
Secure In Your Father's Love
"By this the love of God was manifested in us, that God has sent His only begotten Son into the world so that we might live through Him. In this is love, not that we loved God, but that He loved us and sent His Son to be the propitiation for our sins."
What love the Father has lavished upon us that we should be called the very sons and daughters of God. What love the Father has for the soul that He would send His only Son to redeem them by His own blood. What love He has that He would remove every sin, blotting out the very memory of it, every stain of its existence. What love He has that He would leave His throne in glory, in all its splendor and beauty, that He might walk the path of suffering inflicted by the hands of His creation. What love the Father has for you, that you would bear His name, the very name of the Almighty One.
What measure of love He has for you, His child, that He would inscribe you into the very palm of His hand so He would have you before Him always. Before He stretches forth His hand to act, to move, to give or take, He sees your name written there before Him as a reminder of you, His beloved. He does nothing, precious one of God, without remembering who you are to Him. You are His beloved, His child whom He bore at the cross of Calvary. There is nothing that He would not give for you to keep you, to stay you through, to ensure you are brought safely home to be with Him for all eternity. He loves you! What love the Father has for you!
Every morning, this morning, and every one to come, say aloud, "My Father loves me." And if the Father loves you, what can separate you from His love? Can peril? Can sickness? Can sword? Can famine? Can pain? Can the demons of hell? Can man or woman? Can the storms of life? Can false accusations? Can sin or failures? Can bad choices? Can loss? Can death? Can anything above the heavens or below the heavens? The answer is a resounding NO! Nothing shall separate you from the love of Christ! You are secure in His love. His love is the only sure hope you have in this world. Everything else is moveable and changeable.
True love is found in the knowledge that God first loved us. Our love for Him can take no credit, for it is only responding to what was given to us first. This, beloved, is the true meaning of love; when it is not merited, not sought after, not valued, not appreciated, but it is still given in full measure without restraint… out of sheer choice.
Worry not oh soul of mine for I am secure in my Father's love.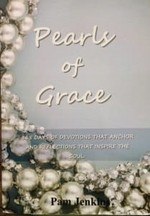 Pearls of Grace Devotional Book
Pearls of Grace is a book of devotions for the entire year, including a read through the Bible in a year calendar, broken down for every day. Beautifully written with encouraging words of hope and empowering words of joy and strength for every woman. Pam draws from the truth and richness of God's Word and gives real life examples in her down to earth style. A must have in your library, click here for more information.
For more from Pam Jenkins and Jabbok Ministries, please visit www.jabbokministries.com!
Listen to Pam Jenkins's daily broadcast on OnePlace.com.