January 10
The Fingerprint Left By Heaven
"In the beginning, God created the heavens and the earth"
Creation was established from the very beginning to be a reservoir of glory for God. It understands its purpose and design; to bring glory to its maker. God deserves the glory, not our explanations for creation. He was the instigator in it. He was the master designer and skillful laborer. For no other reason but this, God deserves the glory for creation and from creation. The how of creation remains to be God's secret. Deuteronomy 29:29 tells us, "The secret things revealed belong to us and to our children forever, that we may follow all the words of this law." The Almighty Artist is too complex, far greater and exceedingly more powerful than our minds could ever comprehend let alone explain. After all, He is the one who designed us and set the limitations upon our understanding. I believe it's because God wanted to capture us with the wonder of Him. With a single stroke of His artistry brush God removed all explanation, carved out the boundaries of understanding and confined knowledge within the holy gates. He is an all knowing and wise Creator Who longs to remain, "unexplainable". Why? So you will yearn to know Him, understand Him and pursue Him for the answers your heart so desperately longs to have.
When we open up the Word of God, we are immediately swept into the presence of God our Creator. God was very intentional in this in order to bring us not to creation itself but to Him. How He yearns for us to stop dead in our tracks coming face to face with the One Who designed us, the One who breathed life into our beings and there in that bold confrontation declare our love for Him. You bear the marks of God upon you! He fashioned you to resonate with the world that He is the Almighty Creator. And once God has engraved his fingerprints of artistry upon something He claims all rights to it.
Do you live like you belong to Him? Can the world see His prints upon your character, attitude, opinions, thinking and very life? Do you declare His glory in all that you say and do? Does God receive honor from your relationships, your job, your possessions, ministry, family, children etc? We were not made for ourselves, but rather we were made for God. He has set His affections upon you and in that setting He will not surrender you to another. After all, He is the Creator! But the question is this: Is He YOUR Creator? Has God become real to you? The way you live your life will shout the answer.
Let everything that has breath, praise the Lord.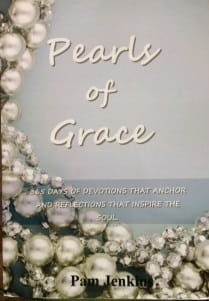 Pearls of Grace Devotional Book
Pearls of Grace is a book of devotions for the entire year, including a read through the Bible in a year calendar, broken down for every day. Beautifully written with encouraging words of hope and empowering words of joy and strength for every woman. Pam draws from the truth and richness of God's Word and gives real life examples in her down to earth style. A must have in your library, click here for more information.
For more from Pam Jenkins and Jabbok Ministries, please visit www.jabbokministries.com!
Listen to Pam Jenkins's daily broadcast on OnePlace.com.