March 7
The Praying Woman
"Now He was telling them a parable to show that at all times they ought to pray and not to lose heart."
A woman who has learned the secret of prevailing prayer will be the most powerful force upon the earth. There will be no shadow of turning for her faith is strong, unchanging even when the world around her falls apart. Show me a woman whose knees bear the imprint of the altar and I'll show you a woman whose feet will stand in the face of death; unshakable, immovable, and full of great joy . She is secure in her God because her heart hopes in Him and in Him she is at complete rest. The chamber of prayer is her solace from the raging storms of life as she cloaks herself with the presence of the Almighty. Her flight of refuge is found beneath His wings of love and grace.
This mighty woman of prayer embraces with urgency the blessed privilege that has been afforded to her by running into the throne room of her Heavenly Father. She has His ear, and He has her heart. Longing to be with Him, just to sit at His feet and lean back upon His chest, feel His heartbeat…drinking in His presence. She knows the nearness of her God is all she needs. Her presence with Him is her stability when away from Him. He is her rock, her strong tower, her shelter, her joy and her very life. There is nothing she does not share with Him. Longing to tell Him every detail of her day she beckons Him to search out her heart to the very depths leaving nothing hidden from His view. He is her addiction, her fix, her very life line and nothing else matters but to be with Him, enjoying Him forever. It is here that she not only pours out all of herself, but she intercedes for His world, for His people and for His Kingdom.
She is a powerful instrument in the mighty hands of God because she believes in prayer. This woman knows that prayer is not a choice, but a privilege, the birthright for every child of God and it is the moving force of His heart. Hell cannot contend with her. The demons know of her and tremble; she shakes the very foundations of the kingdom of darkness. What a mighty warrior she is because her weapon of choice is prayer – prayer to the One enthroned above.
Where is this woman? Is she you, precious one? Are you a woman of prayer? You can measure your dependency upon God by your time spent in prayer to Him. How would you measure up today? Let me share the mighty prayer of Leonard Raven Hill, may it become your prayer as it has mine!
"Lord, I tearfully ask:
Teach me to pray with groaning so that there are earthquakes in hell.
Teach me the groaning of the Spirit until angels stand in awe
Teach me Spirit-born intercession that changes history.
Teach me the birth pangs of the Holy Ghost until hell-shaking revival is born.
Lead me into travail that will hold back divine judgment from the nations for a little season.
Let me be a living sacrifice on the altar of prayer, bleeding to bless, until flood tides of mercy sweep the nations.
Lord, break my heart in intercession until my eyes, like those of Jeremiah are a fountain of tears, weeping for the slain of an educated, but spiritually dead people."
"Oh, to pray so as to be known in hell"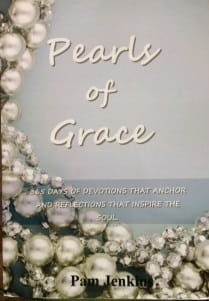 Pearls of Grace Devotional Book
Pearls of Grace is a book of devotions for the entire year, including a read through the Bible in a year calendar, broken down for every day. Beautifully written with encouraging words of hope and empowering words of joy and strength for every woman. Pam draws from the truth and richness of God's Word and gives real life examples in her down to earth style. A must have in your library, click here for more information.
For more from Pam Jenkins and Jabbok Ministries, please visit www.jabbokministries.com!
Listen to Pam Jenkins's daily broadcast on OnePlace.com.