November 4
Do No Harm
"Do not devise harm against your neighbor, While he lives securely beside you."
Who can forget the catchy jingle; "like a good neighbor State Farm is there."? Although we may not be State Farm's neighbor, we can choose to be a good neighbor to those who are near us. But what does it mean to be a good neighbor? I believe the first step of being a good neighbor is by choosing to do no harm. Sounds simple enough doesn't it? But in reality, choosing to do no harm is not as easy as it may seem. There are levels of harm that we can experience or inflict upon another. Harm could range from physical injury to repeating a secret entrusted to you. Bringing harm doesn't necessarily mean cruelty or even hurting someone with physical pain. Sometimes the deepest wounds are the subtle choices we make to dishonor with our words, fail to defend, or even fail to come to someone's aide when they need help.
I have often thought about the many situations that I've experienced with people who have professed to be another's friend and yet turned their back on them in time of need. When we know that someone is hurting or struggling in a situation and we choose to do nothing then that is doing your neighbor harm. The greatest wounds we can receive are those caused through rejection and neglect. When we fail to speak kindness or words of encouragement we do harm. If we do not take an interest when our neighbor is talking with us or disrespect their voice, then we can bring harm. Everyone wants to feel important and everyone needs to know that someone cares about them.
Being sensitive to the burdens, life and cares of others, is choosing to do them good. It's important for us to be very intentional with our actions, responses and words when interacting with people or we will end up doing harm without even meaning to. Alertness of mind and taking the time to really watch, listen and respond genuinely to people, will in the long run, deposit good into their lives. People need to be treated with grace and mercy. This is how God has dealt with each of us; He never does us harm. Take the time to look at your life and note if there be any harmful way in you.
Be a good neighbor.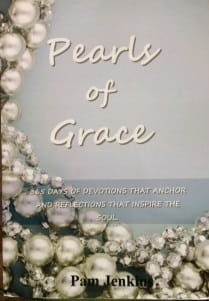 Pearls of Grace Devotional Book
Pearls of Grace is a book of devotions for the entire year, including a read through the Bible in a year calendar, broken down for every day. Beautifully written with encouraging words of hope and empowering words of joy and strength for every woman. Pam draws from the truth and richness of God's Word and gives real life examples in her down to earth style. A must have in your library, click here for more information.
For more from Pam Jenkins and Jabbok Ministries, please visit www.jabbokministries.com!
Listen to Pam Jenkins's daily broadcast on OnePlace.com.