The Reward that Comes Through Struggles - Powerpoint - April 6

The Reward that Comes Through Struggles
April 6
Count it all joy, my brothers, when you meet trials of various kinds, for you know that the testing of your faith produces steadfastness. And let steadfastness have its full effect, that you may be perfect and complete, lacking in nothing.
One of the most amazing phenomena in nature is the metamorphosis of a caterpillar into a butterfly. Of course, we know how it goes: A caterpillar makes a cocoon for himself, sleeps in that cocoon for weeks, and then breaks out of that shell completely transformed into a beautiful butterfly.
A story is told of a little boy who was watching a butterfly emerge from a cocoon one spring day, and he thought he'd help him along in the process by breaking the shell open. But to his dismay, the little butterfly fell to the ground, tried to fly, but couldn't. His wings weren't strong enough because he didn't experience the struggle of breaking the cocoon himself.
A powerful lesson is learned here: We must never seek to shortcut the process of struggling. Everyone experiences struggles and they're meant for a specific purpose… to make you stronger. And when we try to cut them short by numbing the pain with drunkenness, sex, or some other kind of sin, we miss out on the strengthening God wants to bring about!
Don't shortcut the struggles in your life. They have a purpose. Instead, hold fast to Jesus Christ, who has a purpose for your pain and promises He will always bring you through victoriously!
ALLOW YOUR STRUGGLES TO BUILD YOU UP BY TRUSTING IN GOD TO BRING YOU OUT OF THEM STRONGER THAN EVER!
---

For more from PowerPoint Ministries and Dr. Jack Graham, please visit www.jackgraham.org
and
Listen to Dr. Jack Graham's daily broadcast on OnePlace.com.
Watch Jack Graham and Powerpoint Ministries Video Online.

Revitalize your prayer life in 30 days!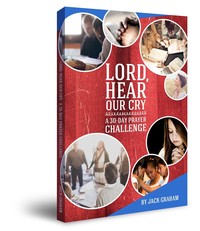 We want to help you Discover how to revitalize your prayer life in 30 days, by sending you Pastor Graham's book, 'Lord, Hear Our Cry.' It's our gift to thank you for your donation to help proclaim the Gospel 'til the whole world hears.
Thank you!
Jack Graham
PowerPoint Ministries