How to Deny Satan Control in Your Life - Powerpoint - April 18

How to Deny Satan Control in Your Life
April 18
Do not present your members to sin as instruments for unrighteousness, but present yourselves to God as those who have been brought from death to life, and your members to God as instruments for righteousness. For sin will have no dominion over you, since you are not under law but under grace.
Several years ago, our family adopted a little puppy and brought him home. And he was trouble! He wouldn't come when we called him, liked to dig up our yard, and couldn't quite get the hang of house training. We had two options: give him away or get him trained. We decided on training.
The school where we took him gave us a choke chain to help him learn to obey commands. If you haven't seen a choke chain, you use it to apply just a little pressure around the neck when you give a command. So you say, "Sit," pull the chain a bit, and it prompts the dog to respond. And soon, the dog figures out what the commands mean and the chain is no longer necessary.
When we were unbelievers, Satan had a choke chain on us so that every time he said, "Jump!" he yanked the chain and we jumped. We really didn't have a choice in the matter. But for the Christian, that chain comes off when we accept Christ.
All too often, that chain is picked back up and worn again when believers deny their freedom in Christ and give in to sin. So leave the choke chain off. Walk in obedience and you won't give Satan one bit of control in your life!
KEEP SATAN FROM CONTROLLING YOU BY WALKING IN OBEDIENCE AND REFUSING TO ACCEPT SLAVERY TO SIN.
---

For more from PowerPoint Ministries and Dr. Jack Graham, please visit www.jackgraham.org
and
Listen to Dr. Jack Graham's daily broadcast on OnePlace.com.
Watch Jack Graham and Powerpoint Ministries Video Online.

Revitalize your prayer life in 30 days!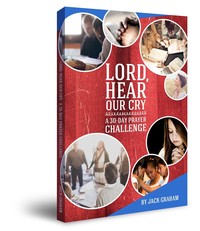 We want to help you Discover how to revitalize your prayer life in 30 days, by sending you Pastor Graham's book, 'Lord, Hear Our Cry.' It's our gift to thank you for your donation to help proclaim the Gospel 'til the whole world hears.
Thank you!
Jack Graham
PowerPoint Ministries