Avoiding the Trap of Popular Opinion - Powerpoint - April 25

Avoiding the Trap of Popular Opinion
April 25
And Elijah came near to all the people and said, "How long will you go limping between two different opinions? If the LORD is God, follow him; but if Baal, then follow him." And the people did not answer him a word.
Years and years ago, men looked out across the ocean. They saw the sun setting in the distance and they wondered: Is there anything beyond? Is there anything out there? And for most of human history, the consensus was, "No, there's nothing beyond. If you go to the edge, you fall off into oblivion."
But over 500 years ago, there was a young man by the name of Christopher Columbus. In 1492, he sailed west with the Nina, Pinta, and the Santa Maria. He boarded with a small crew and they sailed off into the distance, beyond the sunset. And while many figured they would never see Christopher and his crew again, Columbus discovered the land we today call America.
It's interesting how the general consensus on an idea is very often wrong. That's why you can't base what you believe to be true solely on the opinion of the population at large… because that opinion has a track record of being proven incorrect.
Jesus Christ is Lord regardless of what most people may say. So stop worrying about the status quo and trust what you know to be true. And one day when your faith is made sight, you'll rejoice as you see your Savior face-to-face.
DON'T LET POPULAR OPINION SWAY YOU FROM WHAT YOU KNOW IS TRUE – THAT JESUS CHRIST IS LORD OF YOUR LIFE!
---

For more from PowerPoint Ministries and Dr. Jack Graham, please visit www.jackgraham.org
and
Listen to Dr. Jack Graham's daily broadcast on OnePlace.com.
Watch Jack Graham and Powerpoint Ministries Video Online.

Revitalize your prayer life in 30 days!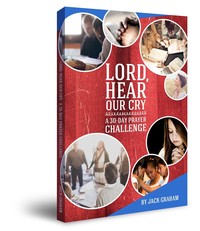 We want to help you Discover how to revitalize your prayer life in 30 days, by sending you Pastor Graham's book, 'Lord, Hear Our Cry.' It's our gift to thank you for your donation to help proclaim the Gospel 'til the whole world hears.
Thank you!
Jack Graham
PowerPoint Ministries