How To Have Victory Over Sin Today - Powerpoint - April 13

How To Have Victory Over Sin Today
April 13
We know that our old self was crucified with him in order that the body of sin might be brought to nothing, so that we would no longer be enslaved to sin.
I want to give you a revolutionary thought today. To some, this might be considered theological heresy. But I believe with all of my heart that this is what the Word of God teaches. Here's the thought: You don't have to sin. You can be free of the power and the dominion of sin in your life!
The reason I'm so passionate about this idea is because so many Christians today believe they're just destined for failure. They think there's nothing they can do but choose to sin. But why should sin master us when we as believers are blood-bought by Jesus Christ?
In Christ, we've been saved and indwelt by the Spirit of the living God, and have the power to live a new life because of that. That means we can overcome sin at every turn. You don't have to be plagued by constant failure and defeat. You can be an overcomer!
So as you go about your days as a believer in Christ, remember the rock-solid truth that you've been bought with a price, indwelled by the Spirit of God, and never have to submit to the temptation of sin. The victory is already yours… live in it today!
LIVE IN VICTORY OVER SIN TODAY BY REMEMBERING WHO YOU ARE IN CHRIST AND THE POWER YOU HAVE TO LIVE FOR HIM!
---

For more from PowerPoint Ministries and Dr. Jack Graham, please visit www.jackgraham.org
and
Listen to Dr. Jack Graham's daily broadcast on OnePlace.com.
Watch Jack Graham and Powerpoint Ministries Video Online.

Revitalize your prayer life in 30 days!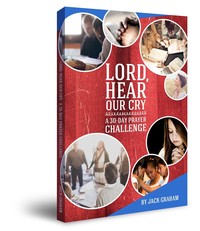 We want to help you Discover how to revitalize your prayer life in 30 days, by sending you Pastor Graham's book, 'Lord, Hear Our Cry.' It's our gift to thank you for your donation to help proclaim the Gospel 'til the whole world hears.
Thank you!
Jack Graham
PowerPoint Ministries