What's Really Behind the Story of Christmas? - Powerpoint - December 23

What's Really Behind the Story of Christmas?
December 23
Therefore do not pronounce judgment before the time, before the Lord comes, who will bring to light the things now hidden in darkness and will disclose the purposes of the heart. Then each one will receive his commendation from God.
Several years ago, our church was in the middle of our annual Christmas pageant. I was in the audience with my wife and kids, and it had come time for the three Wise Men to come on stage. All of a sudden, we heard a shrill beeping noise coming from the back of the sanctuary.
As it turned out, the incense that one of the Wise Men was carrying had triggered the fire alarm. Well, we had to stop the presentation to reset the alarm, put out the incense, and get everyone back in their places before we could resume. It was quite the ordeal!
But as I think back on that night, I remember how, when the alarm sounded, no one moved. Everyone just looked around thinking, "What's happened here? There must be something wrong with the alarm." No one got up to see if there was a fire. We just assumed it was a malfunction.
That's a lot like the world, isn't it? God's been sending us all these signals… "I'm coming! I'm here! I'm coming again." Yet, instead of acknowledging these signals, most people just look around to see what everyone else is doing.
Don't ignore the signals. Behind the picture of sweet baby Jesus in a manger is a strong warning about what's coming. Trust in Jesus today to be sure you're safe from the judgment to come.
DON'T IGNORE THE SIGNALS GOD IS SENDING. TRUST IN JESUS FOR THE FORGIVENESS OF SIN AND TO ESCAPE THE JUDGMENT TO COME.
---

For more from PowerPoint Ministries and Dr. Jack Graham, please visit www.jackgraham.org
and
Listen to Dr. Jack Graham's daily broadcast on OnePlace.com.
Watch Jack Graham and Powerpoint Ministries Video Online.

Revitalize your prayer life in 30 days!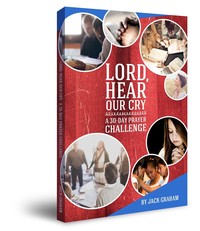 We want to help you Discover how to revitalize your prayer life in 30 days, by sending you Pastor Graham's book, 'Lord, Hear Our Cry.' It's our gift to thank you for your donation to help proclaim the Gospel 'til the whole world hears.
Thank you!
Jack Graham
PowerPoint Ministries