How You Can Connect with God Right Now - Powerpoint - December 13

How You Can Connect with God Right Now
December 13
And in the same region there were shepherds out in the field, keeping watch over their flock by night. And an angel of the Lord appeared to them, and the glory of the Lord shone around them, and they were filled with great fear.
The shepherds were out in the fields tending to their flocks. These humble, lowly men had jobs that kept them away from their families, and were essentially nomadic as they followed their flocks around day and night. It was a lonely, poor life… a humble audience for the very first Christmas carol ever sung.
But when Jesus was born, the heavens opened wide and the sky was filled with angels singing with voices beyond imagination. This most beautiful of songs heard by the lowliest of men and accompanied by the sight of angels filling the sky had to be indescribable.
As we look in the Bible at places where God touches Earth – where heavenly beings come and make direct contact with people – we find that it very often happens in extremely humble circumstances. This becomes even clearer as we look at the story of Christmas.
No matter where you are in life, how you live, or what you have, God can meet you right there. Don't think you have to clean yourself up first in order to connect with God. He's available to you right now. Don't wait to meet Him!
GOD CAN MEET YOU WHEREVER YOU ARE TODAY. BE OPEN TO HIS PRESENCE IN YOUR LIFE RIGHT NOW!
---

For more from PowerPoint Ministries and Dr. Jack Graham, please visit www.jackgraham.org
and
Listen to Dr. Jack Graham's daily broadcast on OnePlace.com.
Watch Jack Graham and Powerpoint Ministries Video Online.

Revitalize your prayer life in 30 days!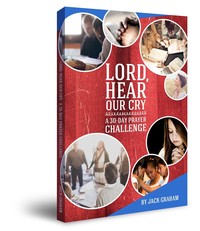 We want to help you Discover how to revitalize your prayer life in 30 days, by sending you Pastor Graham's book, 'Lord, Hear Our Cry.' It's our gift to thank you for your donation to help proclaim the Gospel 'til the whole world hears.
Thank you!
Jack Graham
PowerPoint Ministries