What it Means to Be True to Your Word - Powerpoint - February 7

What It Means To Be True To Your Word
February 7
Lying lips are an abomination to the LORD,
but those who act faithfully are his delight.
Years ago, there was a feature article in Time magazine entitled, "Is America Telling the Truth?" This article brought to light the plague of lying that's spreading across our country. In our places of work, our universities, and our schools, lying has become a rampant and expedient way for people to get what they want.
The sad reality is that we are living in a truth-decaying society – a world in which truth is slowly becoming a minor thing and you can say whatever you want to get ahead in life. You can lie and cheat, as long as you don't get caught, and you're okay. In fact, I read a survey that found 66% of Americans believe it's okay to tell a lie.
So as the church of God, what is to be our response to this disease of deception that has gripped our culture? Quite simply, it's to counter those lies with the truth. If we say we live by the truth of the Word of God, then we also ought to live by the truth of our own words as well.
This week, I want to spend some time looking at this epidemic and how you and I can be a light of truth in the face of so much darkness. Let's discover how we can better live by the truth of our word and show others what it means to walk in the truth of the Word of God.
LIVE BY THE TRUTH OF YOUR WORD AND YOU'LL SHOW THE WORLD WHAT IT MEANS TO LIVE BY THE TRUE WORD OF GOD.
---

For more from PowerPoint Ministries and Dr. Jack Graham, please visit www.jackgraham.org
and
Listen to Dr. Jack Graham's daily broadcast on OnePlace.com.
Watch Jack Graham and Powerpoint Ministries Video Online.

Revitalize your prayer life in 30 days!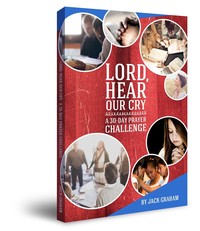 We want to help you Discover how to revitalize your prayer life in 30 days, by sending you Pastor Graham's book, 'Lord, Hear Our Cry.' It's our gift to thank you for your donation to help proclaim the Gospel 'til the whole world hears.
Thank you!
Jack Graham
PowerPoint Ministries