How You Can Escape God's Judgment - PowerPoint - January 18

How You Can Escape God's Judgment
January 18
Whoever believes in the Son has eternal life; whoever does not obey the Son shall not see life, but the wrath of God remains on him. John 3:36
A little boy came home from school one day and sat down to eat dinner with his family. At dinner, he told his mom and dad that he learned a new word. "What word did you learn?" his mom asked. And the little boy let loose a curse word that shocked his parents!
His dad scolded him (and chuckled a bit as he did). But his mom was outraged. In fact, she made him go straight up to bed as soon as he was finished with dinner. Later that night, however, a terrible storm hit and the power went out. The mom felt bad leaving the boy all alone in his room. So she went up to check on him.
She opened the door a crack and saw the boy on his knees praying at his bedside. Through the thunder and lightning she heard the boy whispering, "God, all this for just one little word?"
That's how a lot of people think of God… as a cosmic killjoy just waiting to smash you when you do something wrong. But if you're in Christ, you'll never experience God's wrath. In fact, the wrath that was yours was given to Jesus on the cross. Praise God for that wonderful forgiveness today!
IN CHRIST, GOD TAKES AWAY YOUR PUNISHMENT FOR SIN AND GIVES YOU THE GIFT OF ETERNAL LIFE. THANK HIM TODAY.
---

For more from PowerPoint Ministries and Dr. Jack Graham, please visit www.jackgraham.org
and
Listen to Dr. Jack Graham's daily broadcast on OnePlace.com.
Watch Jack Graham and Powerpoint Ministries Video Online.

Revitalize your prayer life in 30 days!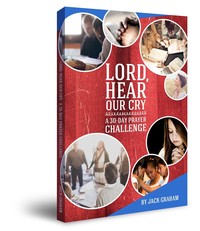 We want to help you Discover how to revitalize your prayer life in 30 days, by sending you Pastor Graham's book, 'Lord, Hear Our Cry.' It's our gift to thank you for your donation to help proclaim the Gospel 'til the whole world hears.
Thank you!
Jack Graham
PowerPoint Ministries