How Your Attitude Before God Determines Everything - PowerPoint - January 23

How Your Attitude Before God Determines Everything
January 23
And just as it is appointed for man to die once, and after that comes judgment, so Christ, having been offered once to bear the sins of many, will appear a second time, not to deal with sin but to save those who are eagerly waiting for him.
Huey Long, the notorious politician who was governor of Louisiana before he went on to serve in the U.S. Senate, was well known for being rather harsh with people. One day, a fellow walked up to Long and said, "Sir, could I have a few minutes of your time?"
Long took a look at the man and said, "I don't have thirty minutes for Jesus Christ, much less ten minutes for you." The next day, Huey Long was shot by an assassin's bullet and died two days later.
Some might think affronting God is a good idea. But there will come a time when each and every one of us will have to face our Maker. It may be sooner or it may be later, but it is definitely going to happen. And on that day, all that will matter is whether God declares us innocent or guilty.
Those who've humbly submitted to Christ will receive His forgiveness. But for those who in their haughtiness have denied Christ, they will undergo judgment… a judgment that is permanent.
How you deal with Christ today will determine your eternal destiny. Don't have a puffed-up spirit. Submit humbly to Christ every day and trust Him to take away your sins!
HAVE AN ATTITUDE OF HUMBLE SUBMISSION BEFORE GOD AND YOU'LL EXPERIENCE CHRIST'S FORGIVENESS AND ETERNAL LIFE.
---

For more from PowerPoint Ministries and Dr. Jack Graham, please visit www.jackgraham.org
and
Listen to Dr. Jack Graham's daily broadcast on OnePlace.com.
Watch Jack Graham and Powerpoint Ministries Video Online.

Revitalize your prayer life in 30 days!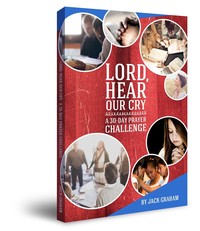 We want to help you Discover how to revitalize your prayer life in 30 days, by sending you Pastor Graham's book, 'Lord, Hear Our Cry.' It's our gift to thank you for your donation to help proclaim the Gospel 'til the whole world hears.
Thank you!
Jack Graham
PowerPoint Ministries