How to Give Your Kids a Full Picture of God - PowerPoint - January 25

How to Give Your Kids a Full Picture of God
January 25
For his anger is but for a moment,
and his favor is for a lifetime.
Weeping may tarry for the night,
but joy comes with the morning.
There was a little boy who had been acting out one day. His mom had tried everything to change his behavior: she sent him to timeout, she put him in his room, and she spanked him. But the little boy kept on misbehaving, even after all that.
Finally, the mom was at her wits' end. So she told her little boy, "If you don't start being good, God's going to get you!" And you know what, it worked. The little boy quieted down and was respectful the rest of the day.
Now, I know there are no perfect parents, but to say such a thing as that – to use God's name to provoke fear in our children so they'll obey us – is such a copout for spiritual leadership in the home. I know a man who, when growing up, only heard about God when his parents were angry with him. So they used God to incite guilt and fear. This formed false thinking about God in his mind, which he's still working to correct to this day.
As parents, we can't just use God to make our kids obey. We have to communicate God's love and acceptance to our children so they have a right picture of their Heavenly Father. Show your kids who God really is by giving them a full picture of His grace and love.
SHOW GOD TO YOUR KIDS BY OPENING THEIR EYES TO ALL OF HIS ATTRIBUTES AND LETTING THEM SEE A FULL PICTURE OF HIS CHARACTER.
---

For more from PowerPoint Ministries and Dr. Jack Graham, please visit www.jackgraham.org
and
Listen to Dr. Jack Graham's daily broadcast on OnePlace.com.
Watch Jack Graham and Powerpoint Ministries Video Online.

Revitalize your prayer life in 30 days!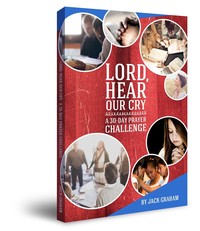 We want to help you Discover how to revitalize your prayer life in 30 days, by sending you Pastor Graham's book, 'Lord, Hear Our Cry.' It's our gift to thank you for your donation to help proclaim the Gospel 'til the whole world hears.
Thank you!
Jack Graham
PowerPoint Ministries