Does God Really Want You to Be Happy? - PowerPoint - January 13

Does God Really Want You to Be Happy?
January 13
You make known to me the path of life;
in your presence there is fullness of joy;
at your right hand are pleasures forevermore.
I recently saw a young man wearing a T-shirt that said, "God will get you for that." That was his idea of God… a babysitter who just sits up in heaven and waits for you to do something wrong. Then once you do, He slaps you around a bit and sends you off saying, "You better not do that again!"
It's a sad truth that many people see God this way. The late comedian George Carlin said that Christianity has "convinced the world that there's an invisible man in the sky who watches everything you do. And there's 10 things he doesn't want you to do or else you'll go to a burning place with a lake of fire until the end of eternity."
That's the idea of God for many people today. Yet, the Bible tells us that God gives riches beyond riches. He's not an evil man just waiting to zap you. He's a loving Father who will stop at nothing to win back those who have fallen away from Him… even sacrificing His own Son.
The list of "don'ts" in the Christian life is for our own good. God doesn't want us to get hurt and knows the most joy will be found when we do His will. Don't obey God because you're scared of judgment – you're already righteous if you're in Christ. Follow God because that's where joy is really found!
JOY IS REALLY FOUND IN OBEDIENCE TO GOD. FOLLOW HIM AND FIND REAL AND LASTING JOY IN HIS WILL FOR YOUR LIFE!
---

For more from PowerPoint Ministries and Dr. Jack Graham, please visit www.jackgraham.org
and
Listen to Dr. Jack Graham's daily broadcast on OnePlace.com.
Watch Jack Graham and Powerpoint Ministries Video Online.

Revitalize your prayer life in 30 days!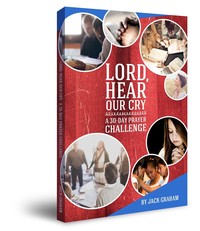 We want to help you Discover how to revitalize your prayer life in 30 days, by sending you Pastor Graham's book, 'Lord, Hear Our Cry.' It's our gift to thank you for your donation to help proclaim the Gospel 'til the whole world hears.
Thank you!
Jack Graham
PowerPoint Ministries