PowerPoint - July 30, 2009
Your victory is in God's hands

July 30, 2009
But God chose what is foolish in this world to shame the wise; God chose what is weak in the world to shame the strong….
--1 Corinthians 1:27
In case you haven't noticed, God often does the unexpected, and sometimes he even does the unusual. Just look at the strategy God gave the children of Israel to bring down the walls of Jericho.
God had Joshua put the Ark of the Covenant out front followed by the trumpets carried by the priests, and then the choirs, and finally the people.
Then God told them to march around those walls in silence once a day for six days. And on the seventh day, he had them march around the wall seven times. Then, on that seventh time around the city, God said to blow the trumpets and to have the people shout with one great shout and the walls of the city would come down.
You have to admit, that sounds like a strange plan! But God's ways are not our ways. And the walls fell and the children of Israel possessed the Promised Land at last!
You know, had the children of Israel given up along the way, their victory would not have come that day. Their story shows just how important it is to trust God and be faithful… until the very last step.
Are you in need of a breakthrough in your life? Take heart… your victory may just be ahead. So keep doing what God shows you to do and stay with his plan to the last step… and don't give up!
ARE YOU IN NEED OF A BREAKTHROUGH IN YOUR LIFE? TRUST GOD AND BE FAITHFUL… TO THE VERY LAST STEP!
---
For more from PowerPoint Ministries and Dr. Jack Graham, please visit www.jackgraham.org
and
click here to listen to Dr. Graham's daily broadcast on OnePlace.com.
OUR THANKS TO YOU!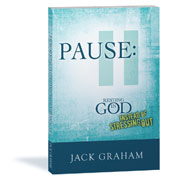 Pause: Resting in God Instead of Stressing Out
Dear Friend,
Do the words rested... peaceful... and refreshed describe you today? Or do the words stressed... rushed... and pressured better describe your way of life?
If you're like most Christians, you'd probably have to admit those last three words more accurately describe your life most of the time!
The good news is that it doesn't have to be this way... even when your life is one big pressure-cooker. And in my new book, Pause: Resting in God Instead of Stressing Out, I'll show you why.
Based on the principles from Paul's letter to the Philippians and Psalm 23, Pause: Resting in God Instead of Stressing Out will help you find true peace and rest in a world that is anything but peaceful and restful. It's the perfect "pause" button you need!
So please request your copy of Pause: Resting in God Instead of Stressing Out when you give online today! --Jack Graham