The Truth that Calms all Anxiety - Powerpoint - June 23

The Truth that Calms all Anxiety
June 23
Do not be anxious about anything, but in everything by prayer and supplication with thanksgiving let your requests be made known to God.
Philippians 4:6
One of my favorite sports movies of all time has to be "Rudy," the true story of Rudy Ruettiger, who after years of striving to play college football, played just a handful of downs as a walk-on at the University of Notre Dame.
There's one part of the movie where Rudy has been struggling at a small college trying to improve his grades so he can transfer to Notre Dame. He's frustrated and his time is running out to transfer. So he goes to church to talk to his mentor, a Catholic priest. Rudy shares his frustration and asks the priest if there's anything he can do to help get him into Notre Dame.
The priest pauses for a moment and replies, "Son, in 35 years of religious studies, I've come up with two hard, incontrovertible facts: There is a God. And I'm not Him."
When times get tough and we're frustrated and tired, remembering that solemn truth can help us overcome our anxieties. This is not our world; this is not our time; this is God's Kingdom. He is the One who is ultimately in control. Trust Him with your frustrations and anxieties, and He'll work everything out for good!
TRUST THE TRUTH THAT GOD IS IN CONTROL AND YOU'LL FIND COMFORT IN THE FACE OF ANXIETY.
---

For more from PowerPoint Ministries and Dr. Jack Graham, please visit www.jackgraham.org
and
Listen to Dr. Jack Graham's daily broadcast on OnePlace.com.
Watch Jack Graham and Powerpoint Ministries Video Online.

Revitalize your prayer life in 30 days!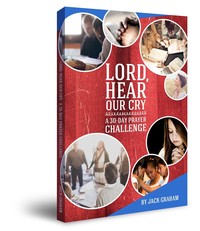 We want to help you Discover how to revitalize your prayer life in 30 days, by sending you Pastor Graham's book, 'Lord, Hear Our Cry.' It's our gift to thank you for your donation to help proclaim the Gospel 'til the whole world hears.
Thank you!
Jack Graham
PowerPoint Ministries