"Knowing Your Primary Occupation - Power Point - June 22, 2011"

Knowing your primary occupation
June 22, 2011
And he said to them, "Follow me, and I will make you fishers of men."
If you've ever done any scuba diving or snorkeling, you know that right under the surface of the ocean, there are all kinds of beautiful coral reefs and spectacular sea life. And on many of the big reefs, you can see miles and miles of beautiful schools of fish and other creatures. Now when you go fishing, you take those fish out of that beautiful life when you bring them into your world where they can't live.
But when you're fishing for men, the exact opposite happens. You see, people are born into spiritual death. And apart from faith in Christ, they remain in death forever.
When you become a fisher of men, however, you play a part in taking men and women out of death and into a beautiful life. And not only that, you also get to share in the victory that comes when a sinner is brought to Christ as God supernaturally uses you to draw people to him!
So as you live your life, remember that your primary occupation is a fisherman who's bringing people out of death and into eternal life in Christ. Every other job you have is just a lake where you can fish for more!
WHATEVER YOUR JOB IS, REMEMBER THAT YOU ARE PRIMARILY A FISHER OF MEN, BRINGING THEM OUT OF DEATH AND INTO LIFE WITH CHRIST.
---

For more from PowerPoint Ministries and Dr. Jack Graham, please visit www.jackgraham.org
and
Listen to Dr. Jack Graham's daily broadcast on OnePlace.com.
Watch Jack Graham and Powerpoint Ministries Video Online.
Discover God's awesome purpose for your life!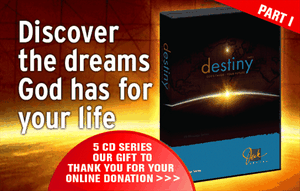 Dear Friend,
Every life, including yours, is a plan of God. That means that your life has a purpose… a destiny. And God wants to help you discover just what your destiny is!
In my new series called Destiny: God's Favor – Your Future, you'll learn from the life of Joseph that YOUR life has a purpose. You'll learn to discover the dreams God has for your life. And you'll see how those dreams can lead you to your God-given purpose and destiny!
Part One of Destiny: God's Favor – Your Future is my gift to thank you for your online donation to PowerPoint today, so please request it when you give.
It is my prayer that this resource will help you discover how God is weaving his awesome plan in your life!
In Christ,
Jack Graham