Where You Can Find Peace in the Midst of Pain - Powerpoint - March 24

Where You Can Find Peace in the Midst of Pain
March 24
The LORD is near to the brokenhearted
and saves the crushed in spirit.
There was a father and his little girl who lost their wife and mother suddenly one night in a car accident. As the daddy was putting his daughter to bed that night, they both sat there in darkness when the little girl broke the silence, "Daddy, this is a dark night. I think it's the darkest night we've ever had."
"Yes, baby," the dad responded, "I think it is."
Then the little girl reached out in the darkness, touched her Daddy's face, and said, "Good. Your face is toward me." And with that, the little girl laid her head down, closed her eyes, and slept.
In the deepest imaginable pain, that little girl was comforted by knowing her daddy was there and his face was toward her. And in our own deep pain, we can take comfort knowing that our heavenly Daddy keeps His face toward us even in the darkest of nights. We may not be able to see it, but we can be sure it's there.
Real and lasting comfort from pain isn't found by just numbing what hurts. Real comfort is found in knowing that in the depths of sorrow, you are deeply and truly loved by a Father who knows exactly how you feel. Find your true peace and rest in the Father who loves you.
FIND PEACE IN THE MIDST OF PAIN BY TRUSTING IN THE FATHER WHO LOVES YOU AND WILL NEVER LEAVE YOUR SIDE
---

For more from PowerPoint Ministries and Dr. Jack Graham, please visit www.jackgraham.org
and
Listen to Dr. Jack Graham's daily broadcast on OnePlace.com.
Watch Jack Graham and Powerpoint Ministries Video Online.

Revitalize your prayer life in 30 days!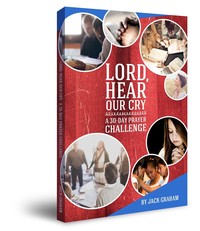 We want to help you Discover how to revitalize your prayer life in 30 days, by sending you Pastor Graham's book, 'Lord, Hear Our Cry.' It's our gift to thank you for your donation to help proclaim the Gospel 'til the whole world hears.
Thank you!
Jack Graham
PowerPoint Ministries