How You can Choose Action over Reaction
March 31
… for God gave us a spirit not of fear but of power and love and self-control.
A rodeo cowboy was practicing one afternoon when he was bucked off his bull. For some reason, the bull decided to charge him. So that cowboy ran to a fence about six feet high and with one single bound jumped right over it to safety.
A few days later, the cowboy went back to the arena and started looking at the fence. He wondered how he jumped it, and even tried again and again to leap over it, but he never made it. So what was the difference? Well, the first time he jumped the fence, he really needed to jump that fence. But the second time, he had no reason to fear for his life.
Fear can often prompt us to do extraordinary things. You hear amazing stories of mothers lifting overturned cars off their children. That's a good thing! But sometimes, these extraordinary things are contrary to the Spirit of God, like when someone who is afraid chastises someone or makes a false accusation out of that fear.
When it comes to responding to fear, you can either react or you can act. Reaction can lead to bad decisions, while Spirit-led action will lead you down the right path. So don't just react to fear, follow the Spirit and act in a constructive, God-honoring way.
WHEN FEAR COMES YOUR WAY, ACT LED BY THE SPIRIT INSTEAD OF REACTING IN A POTENTIALLY NEGATIVE WAY
---

For more from PowerPoint Ministries and Dr. Jack Graham, please visit www.jackgraham.org
and
Listen to Dr. Jack Graham's daily broadcast on OnePlace.com.
Watch Jack Graham and Powerpoint Ministries Video Online.

Revitalize your prayer life in 30 days!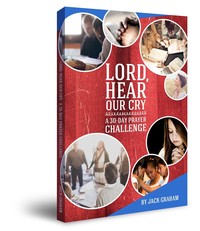 We want to help you Discover how to revitalize your prayer life in 30 days, by sending you Pastor Graham's book, 'Lord, Hear Our Cry.' It's our gift to thank you for your donation to help proclaim the Gospel 'til the whole world hears.
Thank you!
Jack Graham
PowerPoint Ministries