Where to Find Your Purpose in Life - Powerpoint - May 5

Where To Find Your Purpose in Life
May 5
If then you have been raised with Christ, seek the things that are above, where Christ is, seated at the right hand of God.
Down in West Palm Beach, Florida, where I pastored for 8 years, just a few miles off the coast is the Gulf Stream. Now the Gulf Stream is like a river flowing through the ocean. It was used by early explorers to get from the Caribbean back to Europe. And if you're out on a boat and come across the Gulf Stream, you'll move from blue-green water to almost purple water.
When I think about believers in the world, I'm reminded of that Gulf Stream. It's part of the ocean, but it's very different from the ocean. It has direction and purpose, a different consistency, and is most definitely distinguishable by the common observer.
As we Christians go about our lives here on earth, each and every one of us has a call to be in, but not of, the world. We go about our days surrounded by the ordinary. Yet we know we're wholly different because we have the Spirit of God inside of us and we have a real and deep purpose for our lives.
Just like the Gulf Stream powers through the Atlantic Ocean on its way to Europe, live powerfully today on your way to heaven. Your life has meaning and purpose. Carry with you the knowledge that you're not wandering aimlessly, but have a firm destination as a child of God!
LIVE WITH THE CONFIDENCE YOUR LIFE HAS MEANING AND PURPOSE BECAUSE OF WHO YOU ARE IN CHRIST!
---

For more from PowerPoint Ministries and Dr. Jack Graham, please visit www.jackgraham.org
and
Listen to Dr. Jack Graham's daily broadcast on OnePlace.com.
Watch Jack Graham and Powerpoint Ministries Video Online.

Revitalize your prayer life in 30 days!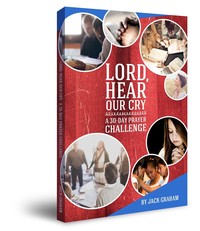 We want to help you Discover how to revitalize your prayer life in 30 days, by sending you Pastor Graham's book, 'Lord, Hear Our Cry.' It's our gift to thank you for your donation to help proclaim the Gospel 'til the whole world hears.
Thank you!
Jack Graham
PowerPoint Ministries