Powerpoint - May. 11, 2011

How to find real happiness in life
May 11, 2011
"Blessed are you who are hungry now, for you shall be satisfied."
Luke 6:21
I talk to so many people todaywho think that the ultimate purpose of life is to simply enjoy happiness. But happiness should never be the major goal of your life because real happiness can only be a byproduct of your real purpose, which must be something greater than yourself.
Whatever it is that motivates your life must be something big enough to make living worthwhile. For many people, their greatest problem is not that they live vile lives, but that they live vain lives. They don't have a great purpose, a great scheme, or a great dream.
So what is the prime purpose for which God made you? Your purpose is to bring glory to God. God has a plan for everything that happens to you. And that plan is for you to be used as an instrument of his glory.
Are you willing to let God be God even when you don't understand what's going on? Are you willing to trust God that he knows what he's doing when the hard times of life hit? It's in your dependence upon him that he is most glorified in your life. So in the good times and the bad, trust fully that he's doing something great with you and then you'll experience real happiness.
DON'T SPEND YOUR LIFE SEARCHING FOR HAPPINESS. SPEND YOUR LIFE BRINGING GLORY TO THE ONLY ONE WHO WILL TRULY FULFILL YOU.
---

For more from PowerPoint Ministries and Dr. Jack Graham, please visit www.jackgraham.org
and
Listen to Dr. Jack Graham's daily broadcast on OnePlace.com.
Watch Jack Graham and Powerpoint Ministries Video Online.
Our gift to you!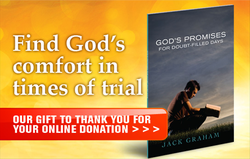 Dear Friend,
At some point, everyone goes through a difficult season, left wondering when God would come through. That's why I want to send you my new booklet, God's Promises for Doubt-Filled Days.
In this booklet, I share how the tragedy of my father's murder revealed to me God's steady comfort during times of trial. And I share in this booklet the four promises God makes as you search for comfort in the midst of your doubts.
God's Promises for Doubt-Filled Days is my gift to thank you for your online donation to PowerPoint today, so please request it when you give.
It's my prayer this resource will help you see how God works his good plans in you—especially during doubt-filled days!
Jack Graham
PowerPoint Ministries