How to Share Christ in a Post Christian Era - Powerpoint - May 19

How To Share Christ in a Post-Christian Era
May 19
Do all things without grumbling or disputing, that you may be blameless and innocent, children of God without blemish in the midst of a crooked and twisted generation, among whom you shine as lights in the world, holding fast to the word of life…
As we look around the globe at what is happening to the Church, it's abundantly clear that North America is slowly moving into what's being called the "post-Christian" era. This shift was predicted over 50 years ago, and is now becoming reality as Christian thinking is no longer guiding our culture.
In addition to a lessening of Christian thought in the public forum, we're also seeing a watering down of the faith in many churches that are becoming indifferent toward issues like premarital sex, abortion, and the exclusiveness of Christ as the way to heaven.
This is happening. So we as the Church can either shake our heads and turn our backs on culture, or we can find new ways to engage people in this post-Christian era with the Gospel. But doing that will take getting outside of our comfort zones and investing more time and energy into connecting with people who know nothing of Christ.
The reward will be worth it, but we have to do the work first. Spend time getting to know the non-Christians around you. Engage them as friends, live out the love of Christ, and let the Gospel flow from there!
SHARE CHRIST IN A POST-CHRISTIAN ERA BY ENGAGING OTHERS AS FRIENDS AND SHOWING THEM THE LOVE OF CHRIST.
---

For more from PowerPoint Ministries and Dr. Jack Graham, please visit www.jackgraham.org
and
Listen to Dr. Jack Graham's daily broadcast on OnePlace.com.
Watch Jack Graham and Powerpoint Ministries Video Online.

Revitalize your prayer life in 30 days!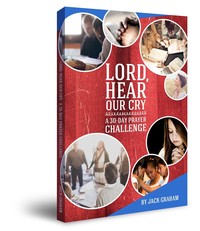 We want to help you Discover how to revitalize your prayer life in 30 days, by sending you Pastor Graham's book, 'Lord, Hear Our Cry.' It's our gift to thank you for your donation to help proclaim the Gospel 'til the whole world hears.
Thank you!
Jack Graham
PowerPoint Ministries