Powerpoint - May. 16, 2011

Your only true satisfaction
May 16, 2011
If God is for us, who can be against us? He who did not spare his own Son but gave him up for us all, how will he not also with him graciously give us all things?
Romans 8:31-32
There are so many believers today who honestly think they're missing out on something by following Christ. They look at the world and they see all its treasures and pleasures and, at some level, second guess their decision to follow Christ. "How much happier and fulfilled could I be," they think, "if I could just follow my worldly desires?"
Well, nothing could be further from the truth. You see, the things of this world—those sinful behaviors and idols that your flesh tells you are good—may gratify, but they'll never satisfy. And the reason is that you and I are created for something so much better. I love what C.S. Lewis said,
"If I find in myself a desire which no experience in this world can satisfy, the most probable explanation is that I was made for another world."
You and I are created by God for a higher purpose. And because of that, we'll never be able to find any true fulfillment in worldly things. It's like trying to put Coca-Cola in your car's gas tank. It won't work!
But if God gave you his Son, he's also going toprovideeverything else you need.Theverysame God who's over all is over you,and isalways working in yourlife. Now,that's not arrogance,it's a promise! So when you feel tempted by the treasures and pleasures of the world, remember that they may gratify, but only God will ever truly satisfy.
THE WORLD'S TREASURES AND PLEASURES MAY GRATIFY, BUT ONLY GOD WILL EVER TRULY SATISFY. SO LOOK COMPLETELY TO HIM TO FIND YOUR FULFILLMENT!
---

For more from PowerPoint Ministries and Dr. Jack Graham, please visit www.jackgraham.org
and
Listen to Dr. Jack Graham's daily broadcast on OnePlace.com.
Watch Jack Graham and Powerpoint Ministries Video Online.
Our gift to you!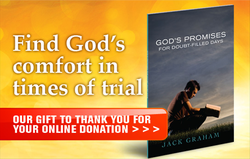 Dear Friend,
At some point, everyone goes through a difficult season, left wondering when God would come through. That's why I want to send you my new booklet, God's Promises for Doubt-Filled Days.
In this booklet, I share how the tragedy of my father's murder revealed to me God's steady comfort during times of trial. And I share in this booklet the four promises God makes as you search for comfort in the midst of your doubts.
God's Promises for Doubt-Filled Days is my gift to thank you for your online donation to PowerPoint today, so please request it when you give.
It's my prayer this resource will help you see how God works his good plans in you—especially during doubt-filled days!
Jack Graham
PowerPoint Ministries