Is the Bible Relevant for Today? - Powerpoint - May 20

Is the Bible Relevant for Today?
May 20
Forever, O LORD, your word
is firmly fixed in the heavens.
I was driving down the road not long ago when I pulled up behind a car that had a Christian bumper sticker on it. It said, "God said it; I believe it; and that settles it!" Well, with all due respect to the driver of that car, I'd change that little slogan a bit to say, "God said it and that settles it!"
You see, the truth of God's Word, or any subject for that matter, isn't dependent on our belief of it. Truth is truth no matter what we think or how we feel about it. It just is. That means the Bible verses we put on coffee cups are just as true and inspired as the sometimes monotonous genealogies of the Old Testament!
So what does this mean for us? It means that all the Bible—every chapter, every verse, and every word —is inspired and deserving of our attention. Yes, there may be certain verses that are more inspiring, but it's all equally inspired!
God's entire Word is firmly fixed in heaven and is as relevant to your life today as it was to those who wrote it so long ago. Don't neglect the Word of God. Dig in daily and relish its wonderful teachings. It's God's gift to you… so open it!
GOD'S ENTIRE WORD IS AS RELEVANT TODAY AS IT WAS THE DAY IT WAS WRITTEN. OPEN IT DAILY AND LET GOD GUIDE YOUR LIFE!
---

For more from PowerPoint Ministries and Dr. Jack Graham, please visit www.jackgraham.org
and
Listen to Dr. Jack Graham's daily broadcast on OnePlace.com.
Watch Jack Graham and Powerpoint Ministries Video Online.

Revitalize your prayer life in 30 days!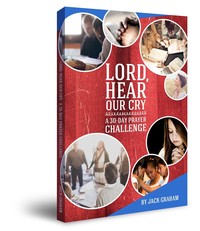 We want to help you Discover how to revitalize your prayer life in 30 days, by sending you Pastor Graham's book, 'Lord, Hear Our Cry.' It's our gift to thank you for your donation to help proclaim the Gospel 'til the whole world hears.
Thank you!
Jack Graham
PowerPoint Ministries