Powerpoint - May. 17, 2011

Waiting for God's grace to shine through

May 17, 2011
Therefore the LORD waits to be gracious to you,
and therefore he exalts himself to show mercy to you.
For the LORD is a God of justice;
blessed are all those who wait for him.
Isaiah 30:18
Do you know what one of the toughest aspects of the Christian life is? Waiting for God. If you and I are honest with ourselves, it's not always easy to have the patience and trust to wait for God's perfect timing. Yet, one of the highest callings of the Scriptures is often to wait on God.
In fact, if you think about, some of God's greatest acts in the Bible required waiting by people here on earth. It took Noah decades to build the ark, but God showed up when the time was right. The Israelites roamed the desert for 40 years, but God brought them to Canaan in his timing. And, Jesus lay dead in the grave for three days before God raised him!
God's grace is often best experienced when you have to wait on him. And that's because when you wait on him, you have nothing but him in which to hope. It's when you think you have your life all together and you don't feel you need God that things begin to really fall apart because he is the only foundation that will never crumble.
So when a situation comes where you have to wait—whether it's death, sickness, sorrow, financial problems, a broken home, or a broken marriage—remain faithful and wait patiently on God to work and you'll be able to fully experience his abundant grace.
GOD'S GRACE IS OFTEN BEST EXPERIENCED WHEN WE HAVE TO WAIT ON HIM. SO WHEN HARD TIMES HIT, WAIT PATIENTLY ON GOD AND YOU'LL EXPERIENCE HIS ABUNDANT GRACE!
---

For more from PowerPoint Ministries and Dr. Jack Graham, please visit www.jackgraham.org
and
Listen to Dr. Jack Graham's daily broadcast on OnePlace.com.
Watch Jack Graham and Powerpoint Ministries Video Online.
Our gift to you!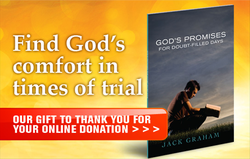 Dear Friend,
At some point, everyone goes through a difficult season, left wondering when God would come through. That's why I want to send you my new booklet, God's Promises for Doubt-Filled Days.
In this booklet, I share how the tragedy of my father's murder revealed to me God's steady comfort during times of trial. And I share in this booklet the four promises God makes as you search for comfort in the midst of your doubts.
God's Promises for Doubt-Filled Days is my gift to thank you for your online donation to PowerPoint today, so please request it when you give.
It's my prayer this resource will help you see how God works his good plans in you—especially during doubt-filled days!
Jack Graham
PowerPoint Ministries