Powerpoint - May 20, 2011

How to discover the will of God
May 20, 2011
And the world is passing away along with its desires, but whoever does the will of God abides forever.
1 John 2:17
If you go to any church this Sunday, stand up in front of the congregation, and ask, "Who here wants to do the will of God?" you'd probably see most of the people raise their hands. But if instead you asked, "Who here knows how to find the will of God?" you probably would see a lot fewer hands go up! There's so much ambiguity among believers when it comes to knowing God's will. But there are three ways I believe God reveals his will to his people.
First, God will show you his will by his Word, the Bible. The better you know your Bible, the better you will know the will of God. It represents the thoughts of God, the ways of God, and shows how God operates. So as you search the Scriptures, God will speak to you.
Not only does God speak through his Word, but God speaks through his witness, the Holy Spirit. You can pray and ask God to speak to you through his Spirit and reveal his will to you that way.
Number three is God's wisdom. We're told that we can ask of God if we lack wisdom and he will fully and freely give it to us. Now, wisdom may come from within us, or it may come from others around us. But God wants to give us wisdom in our decisions.
So as you navigate the difficult decisions of life, trust in God's Word, his witness of the Spirit, and his abundant wisdom to guide your paths and reveal his will to you!
TRUST IN GOD'S WORD, HIS WITNESS, AND HIS WISDOM TO HELP YOU DISCOVER HIS WILL FOR YOU!
---

For more from PowerPoint Ministries and Dr. Jack Graham, please visit www.jackgraham.org
and
Listen to Dr. Jack Graham's daily broadcast on OnePlace.com.
Watch Jack Graham and Powerpoint Ministries Video Online.
Our gift to you!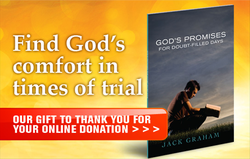 Dear Friend,
At some point, everyone goes through a difficult season, left wondering when God would come through. That's why I want to send you my new booklet, God's Promises for Doubt-Filled Days.
In this booklet, I share how the tragedy of my father's murder revealed to me God's steady comfort during times of trial. And I share in this booklet the four promises God makes as you search for comfort in the midst of your doubts.
God's Promises for Doubt-Filled Days is my gift to thank you for your online donation to PowerPoint today, so please request it when you give.
It's my prayer this resource will help you see how God works his good plans in you—especially during doubt-filled days!
Jack Graham
PowerPoint Ministries