The Key to Building a Successful Marriage - Powerpoint - May 25

The Key to Building a Successful Marriage
May 25
Therefore a man shall leave his father and his mother and hold fast to his wife, and they shall become one flesh.
Genesis 2:24
People are always asking me, "Pastor, is my marriage doing okay?" So I ask them, "Well, are you friends with your spouse?" I believe that, in the marriage relationship, one of the strongest indicators of health is whether or not you get along with your spouse as a friend.
My wife is my best friend. One of the ways I know that is because she makes me a better person. She doesn't just tell me I'm great all the time. No, she lovingly lets me know when I'm wrong and I listen to her. She's better at some things that I am, so I trust her to hold me accountable in many areas.
When you're friends with your spouse, the differences that exist between you will stop driving a wedge between the two of you and will begin to strengthen your bond together. But if you're not friends, you'll only grow further apart as more and more conflict arises between the two of you.
Be your spouse's friend. Remember what attracted you to him or her in the first place, and affirm them in that. Spend time together regularly, free from distractions. Once you build a foundation of friendship, you'll be on your way to a lifetime of building one another up in love!
BUILD A SUCCESSFUL MARRIAGE BY CREATING A DEEP FRIENDSHIP WITH YOUR SPOUSE AND BUILDING ONE ANOTHER UP IN LOVE!
---

For more from PowerPoint Ministries and Dr. Jack Graham, please visit www.jackgraham.org
and
Listen to Dr. Jack Graham's daily broadcast on OnePlace.com.
Watch Jack Graham and Powerpoint Ministries Video Online.

Revitalize your prayer life in 30 days!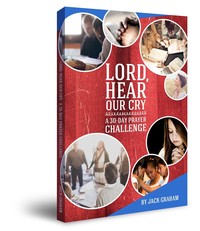 We want to help you Discover how to revitalize your prayer life in 30 days, by sending you Pastor Graham's book, 'Lord, Hear Our Cry.' It's our gift to thank you for your donation to help proclaim the Gospel 'til the whole world hears.
Thank you!
Jack Graham
PowerPoint Ministries