How to Keep Your Past from Dragging You Down - Powerpoint - May 26

How To Keep Your Past From Dragging You Down
May 26
Brothers, I do not consider that I have made it my own. But one thing I do: forgetting what lies behind and straining forward to what lies ahead, I press on toward the goal for the prize of the upward call of God in Christ Jesus.
When the famous explorer Hernan Cortes came to Mexico with his Spanish fleet of ships in the early 1500s, he faced a tremendous challenge. After the novelty of the adventure began to wear off, the men in his crew began grumbling and wanted to go home.
So one night, Cortes ordered all the boats be burned. And as the flames ascended into the sky, those sailors understood the reality that there was no turning back. They had been set apart for the calling and commission of their commander.
When we give our lives to Christ, our calling and commission is much the same. We burn the bridges behind us, leaving our past in the past and commit ourselves fully to serving Christ in every area of our lives. We no longer live for human purposes; we live for heavenly purposes.
Maybe today, you need to burn a few ships in your life that are holding you back and keeping you from going "all in" for Jesus. If so, make a conscious decision to let go of the past right now, put your present in God's hands, and devote your future to serving Christ with all your heart.
GO "ALL-IN" FOR CHRIST BY PUTTING YOUR PAST BEHIND YOU AND LIVING EVERY DAY TO THE GLORY OF GOD!
---

For more from PowerPoint Ministries and Dr. Jack Graham, please visit www.jackgraham.org
and
Listen to Dr. Jack Graham's daily broadcast on OnePlace.com.
Watch Jack Graham and Powerpoint Ministries Video Online.

Revitalize your prayer life in 30 days!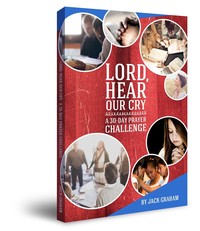 We want to help you Discover how to revitalize your prayer life in 30 days, by sending you Pastor Graham's book, 'Lord, Hear Our Cry.' It's our gift to thank you for your donation to help proclaim the Gospel 'til the whole world hears.
Thank you!
Jack Graham
PowerPoint Ministries