What is the Gospel? - Powerpoint - May 27

What is the Gospel?
May 27
For I delivered to you as of first importance what I also received: that Christ died for our sins in accordance with the Scriptures, that he was buried, that he was raised on the third day in accordance with the Scriptures, and that he appeared to Cephas, then to the twelve.
1 Corinthians 15:3-5
One popular question that's being thrown around in theological circles these days is, "What is the Gospel?" Well, whenever I'm asked that question, I always respond the same: "The Gospel is Jesus Christ."
Now what do I mean by that? Well, think of it this way: you can take Buddha out of Buddhism and still have the basic tenants of that religion. You can take Muhammad out of Islam, and you'd still have the same principles. But if you take Christ out of Christianity, there is nothing left because our faith is not in a system, but in a person.
Christianity at its very heart is not a code; it's not a cause; it's not a creed; and it's not a church. Christianity is Christ! It is the Gospel concerning Jesus. So when we're asked that question, "What is the Gospel?", we know our answer doesn't consist of a list of rules or a philosophy on life. The Gospel is a person.
Stop trying to just live according to rules. Instead, live according to the life of Christ in you. Allow Him to determine your steps. And as you press into Him, He'll transform the way you think, how you act, and will give you joy like you've never experienced!
THE GOSPEL IS JESUS CHRIST – NOT A LIST OF RULES OR A PHILOSOPHY. BELIEVE IN HIM AND ALLOW HIM TO LIVE HIS LIFE THROUGH YOU!
---

For more from PowerPoint Ministries and Dr. Jack Graham, please visit www.jackgraham.org
and
Listen to Dr. Jack Graham's daily broadcast on OnePlace.com.
Watch Jack Graham and Powerpoint Ministries Video Online.

Revitalize your prayer life in 30 days!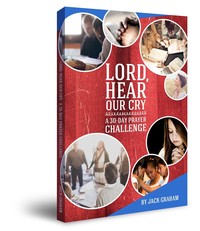 We want to help you Discover how to revitalize your prayer life in 30 days, by sending you Pastor Graham's book, 'Lord, Hear Our Cry.' It's our gift to thank you for your donation to help proclaim the Gospel 'til the whole world hears.
Thank you!
Jack Graham
PowerPoint Ministries