Powerpoint - May 25, 2011

Focusing on God in the shadows of life
May 25, 2011
Some sat in darkness and in the shadow of death,
prisoners in affliction and in irons,
for they had rebelled against the words of God,
and spurned the counsel of the Most High.
So he bowed their hearts down with hard labor;
they fell down, with none to help.
Then they cried to the LORD in their trouble,
and he delivered them from their distress.
He brought them out of darkness and the shadow of death,
and burst their bonds apart.
Psalm 107:10-14
It's a funny thing about shadows. For any shadow to exist there must first be light. You can't have a shadow in complete darkness. But this means the converse is also true: when you're walking in the light, there will be some shadows.
Another interesting thing about shadows is that when you keep your face toward the light source, the shadow will always fall behind you. Now, I was always told as a child never to stare directly into the sun. But when it comes to the light of Jesus, that rule flies out the window!
In every believer's life, shadows will encroach. Hard times will hit. People you love will get sick and die. You'll be betrayed by someone you trusted. And yet through it all, we must remember the one rule that gives us hope: keep your eyes on the light.
When you enter seasons in your life when it seems like the shadows are everywhere, keep your focus on God. While the shadows may still be there, you'll be focused on the only One who will one day make every shadow disappear!
WHEN YOU EXPERIENCE THE DARK SHADOWS OF LIFE, KEEP YOUR FOCUS ON GOD AND LOOK FORWARD TO THE DAY HE WILL MAKE EVERY SHADOW DISAPPEAR!
---

For more from PowerPoint Ministries and Dr. Jack Graham, please visit www.jackgraham.org
and
Listen to Dr. Jack Graham's daily broadcast on OnePlace.com.
Watch Jack Graham and Powerpoint Ministries Video Online.
Our gift to you!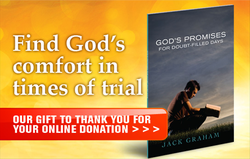 Dear Friend,
At some point, everyone goes through a difficult season, left wondering when God would come through. That's why I want to send you my new booklet, God's Promises for Doubt-Filled Days.
In this booklet, I share how the tragedy of my father's murder revealed to me God's steady comfort during times of trial. And I share in this booklet the four promises God makes as you search for comfort in the midst of your doubts.
God's Promises for Doubt-Filled Days is my gift to thank you for your online donation to PowerPoint today, so please request it when you give.
It's my prayer this resource will help you see how God works his good plans in you—especially during doubt-filled days!
Jack Graham
PowerPoint Ministries