Powerpoint - May 26, 2011

Fulfilling your role in world missions
May 26, 2011
"Go therefore and make disciples of all nations, baptizing them in the name of the Father and of the Son and of the Holy Spirit, teaching them to observe all that I have commanded you. And behold, I am with you always, to the end of the age."
Matthew 28:19-20
Over two centuries ago, a shoe cobbler by the name of William Carey stood before an austere group of ministers at a Baptist association in London, England, and told them, "God has put it on my heart to reach the nations and to take seriously the command of Christ to take the Gospel to the world."
So one rather pompous minister stood to his feet and said to Carey, "Young man, sit down. When God chooses to save the pagan, he'll do it at his own time and in his own way."
But that would not suffice for William Carey. So he packed up everything he owned, moved to India, and became the founder of the modern missionary movement! And he coined the famous phrase that became his life's motto: "Expect great things from God and attempt great things for God."
That's what God has called us to do as well: to expect great things from him and to attempt great things for him. Let me be clear: any believer who refuses to take seriously the command of Christ to take the Gospel to the nations is living in disobedience. So when it comes to bringing the Good News to the world, you have an important role to play by praying, giving, or going!
YOU HAVE A ROLE TO PLAY IN WORLD MISSIONS. SO BE THE CHRISTIAN THAT GOD HAS CALLED YOU TO BE BY PRAYING, GIVING, OR GOING!
---

For more from PowerPoint Ministries and Dr. Jack Graham, please visit www.jackgraham.org
and
Listen to Dr. Jack Graham's daily broadcast on OnePlace.com.
Watch Jack Graham and Powerpoint Ministries Video Online.
Our gift to you!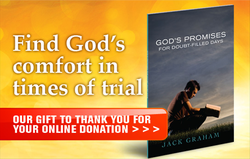 Dear Friend,
At some point, everyone goes through a difficult season, left wondering when God would come through. That's why I want to send you my new booklet, God's Promises for Doubt-Filled Days.
In this booklet, I share how the tragedy of my father's murder revealed to me God's steady comfort during times of trial. And I share in this booklet the four promises God makes as you search for comfort in the midst of your doubts.
God's Promises for Doubt-Filled Days is my gift to thank you for your online donation to PowerPoint today, so please request it when you give.
It's my prayer this resource will help you see how God works his good plans in you—especially during doubt-filled days!
Jack Graham
PowerPoint Ministries