Powerpoint - May 27, 2011

Living on the offensive against Satan
May 27, 2011
For we do not wrestle against flesh and blood, but against the rulers, against the authorities, against the cosmic powers over this present darkness, against the spiritual forces of evil in the heavenly places.
Ephesians 6:12
I heard about a man who went up to his minister after the service and criticized him for using the word pants in his sermon. So the minister said, "Well, what word should I have used?"
He replied, "You should have used the word trousers."
So the pastor stepped back for a moment. He said, "Well, sir, I'm actually glad that I said pants because if I hadn't, you would've gotten nothing out of the sermon!"
Some people find so much to criticize today. And I believe at the core of that criticism is a reluctance to be a part of a church that's committed to bringing people to Christ and doing battle with Satan. There are men and women in the church today who want to focus more on the comforts of church on their own terms than actually being a church on the offensive against spiritual darkness.
The church is not a cruise ship; it's a battleship! The church doesn't exist for you to have all the programs, nice seats, and good music you want. It exists to be used by God to disarm the powers of darkness in this world.
So remember that you're not part of the Body of Christ just so you can enjoy the ride and have everything your way. You're there so you can be part of the fight!
THE CHURCH DOESN'T EXIST TO BE A CRUISE SHIP, BUT A BATTLESHIP. SO INSTEAD OF LOOKING FOR MORE COMFORTS, LOOK FOR MORE OPPORTUNITIES TO WAGE WAR AGAINST THE EVIL ONE.
---

For more from PowerPoint Ministries and Dr. Jack Graham, please visit www.jackgraham.org
and
Listen to Dr. Jack Graham's daily broadcast on OnePlace.com.
Watch Jack Graham and Powerpoint Ministries Video Online.
Our gift to you!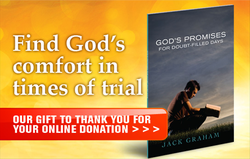 Dear Friend,
At some point, everyone goes through a difficult season, left wondering when God would come through. That's why I want to send you my new booklet, God's Promises for Doubt-Filled Days.
In this booklet, I share how the tragedy of my father's murder revealed to me God's steady comfort during times of trial. And I share in this booklet the four promises God makes as you search for comfort in the midst of your doubts.
God's Promises for Doubt-Filled Days is my gift to thank you for your online donation to PowerPoint today, so please request it when you give.
It's my prayer this resource will help you see how God works his good plans in you—especially during doubt-filled days!
Jack Graham
PowerPoint Ministries