The Only Cure for Spiritual Bankruptcy - Powerpoint - May 31

The Only Cure for Spiritual Bankruptcy
May 31
We have all become like one who is unclean,
and all our righteous deeds are like a polluted garment.
We all fade like a leaf,
and our iniquities, like the wind, take us away.
Isaiah 64:6
I remember when I was young and my grandfather would tell me about the Great Depression. He was a banker at the First National Bank of Conway, Arkansas, so he saw firsthand the problems that came with the 1929 market crash. Eventually, his bank shut down and my grandfather was unemployed. So my father got a job with the government and supported the family.
I'm amazed at the level at which that period in history shaped my father's and grandfather's generation. For the rest of their lives, every financial decision they made was run through the filter of their experiences in those days when the economy collapsed and even the currency in their bank accounts was meaningless.
Much like those days in the 1930s, we're spiritually bankrupt. We may have all the good works in the world in our bank account, but apart from Christ, they're worthless! It's like going to the grocery store and trying to pay with Monopoly money.
The only solution we have is to trust in the currency we're given in Christ, who credited our account with an unlimited supply of grace. In Him, we're no longer bankrupt, but get to experience His riches for eternity!
APART FROM CHRIST, YOU'RE SPIRITUALLY BANKRUPT. SO TRUST IN HIM TO CREDIT YOUR ACCOUNT WITH HIS UNLIMITED SUPPLY OF GRACE!
---

For more from PowerPoint Ministries and Dr. Jack Graham, please visit www.jackgraham.org
and
Listen to Dr. Jack Graham's daily broadcast on OnePlace.com.
Watch Jack Graham and Powerpoint Ministries Video Online.

Revitalize your prayer life in 30 days!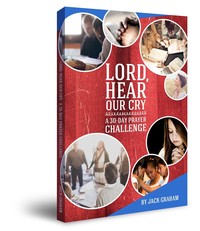 We want to help you Discover how to revitalize your prayer life in 30 days, by sending you Pastor Graham's book, 'Lord, Hear Our Cry.' It's our gift to thank you for your donation to help proclaim the Gospel 'til the whole world hears.
Thank you!
Jack Graham
PowerPoint Ministries