PowerPoint - May 28, 2010
Win over sin!
May 28, 2010
Do not be deceived: God is not mocked, for whatever one sows, that will he also reap.
--Galatians 6:7
One of temptation's great allures is the question, "Who's going to know?" It's true, isn't it?
Satan is good about coming in secret to tempt us with a sinful thought. He comes when no one else is around and no one is watching.
This was certainly how he tempted Joseph. There he was, a slave in Potiphar's house, with Potiphar's wife doing all she could to seduce him. Who would know? The Scripture says they were alone in the house.
Potiphar's wife certainly wasn't going to tell her husband what she did. Joseph didn't have to tell anyone. But in spite of the secretive nature of the temptation, Joseph resisted and literally fled from the woman's presence.
Now, you need to see this. The truest test in a person's life is what a person does when no one is looking. Satan's suggestion that "no one will know" is a lie. There is no such thing as a truly secret sin. Jesus himself said those things that are done in secret will be brought to light and shouted from the housetops (Luke 12:3).
But Joseph's life is testimony that there is power over temptation through God.
When faced with temptation, watch for a way of escape and take it, just as Joseph did. You can have power over temptation in Jesus.
THE TRUEST TEST IN A PERSON'S LIFE IS
WHAT A PERSON DOES WHEN NO ONE IS LOOKING.
---
For more from PowerPoint Ministries and Dr. Jack Graham, please visit www.jackgraham.org
and
click here to listen to Dr. Graham's daily broadcast on OnePlace.com.
Watch Jack Graham and Powerpoint Ministries Video Online
OUR THANKS TO YOU!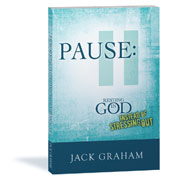 Pause: Resting in God Instead of Stressing Out
Dear Friend,
Do the words rested... peaceful... and refreshed describe you today? Or do the words stressed... rushed... and pressured better describe your way of life?
If you're like most Christians, you'd probably have to admit those last three words more accurately describe your life most of the time!
The good news is that it doesn't have to be this way... even when your life is one big pressure-cooker. And in my new book, Pause: Resting in God Instead of Stressing Out, I'll show you why.
Based on the principles from Paul's letter to the Philippians and Psalm 23, Pause: Resting in God Instead of Stressing Out will help you find true peace and rest in a world that is anything but peaceful and restful. It's the perfect "pause" button you need!
So please request your copy of Pause: Resting in God Instead of Stressing Out when you give online today! --Jack Graham