How to Really Find Everlasting Joy - Powerpoint - May 13

How To Really Find Everlasting Joy
May 13
"Do not lay up for yourselves treasures on earth, where moth and rust destroy and where thieves break in and steal, but lay up for yourselves treasures in heaven, where neither moth nor rust destroys and where thieves do not break in and steal. For where your treasure is, there your heart will be also."
The famous missionary and martyr, Jim Elliot, was called a fool by many for going to Ecuador. "They'll kill you there!" some told him. "You'll lose your life!" Well, Jim Elliot did lose his life when he was killed by members of the very tribe he was trying to reach. His wife, Elisabeth, kept his journal in which he once wrote, "He is no fool who gives what he cannotkeep to gain that which he cannot lose."
Elisabeth Elliot returned to that same tribe where she spent years doing her mission work. All the while, she held to that same truth that when we give up our worldly possessions for the sake of the Gospel to gain eternal treasure in Christ, it makes perfect sense!
In our part of the world, people are obsessed with accumulating stuff. Next time you're out driving, just count the number of storage places you see—all existing for the sole purpose of keeping things no one is using.
I'm not telling you to sell everything you have and move to Timbuktu. But how might your attitude change if you saw your worldly possessions as secondary to your heavenly treasures? Stuff can't make you happy, but heavenly treasures will give you everlasting joy.
EXPERIENCE EVERLASTING JOY BY KEEPING YOUR HEAVENLY TREASURES – YOUR WORK FOR CHRIST – AS YOUR MOST IMPORTANT PRIORITY!
---

For more from PowerPoint Ministries and Dr. Jack Graham, please visit www.jackgraham.org
and
Listen to Dr. Jack Graham's daily broadcast on OnePlace.com.
Watch Jack Graham and Powerpoint Ministries Video Online.

Revitalize your prayer life in 30 days!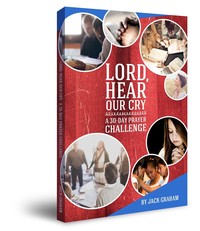 We want to help you Discover how to revitalize your prayer life in 30 days, by sending you Pastor Graham's book, 'Lord, Hear Our Cry.' It's our gift to thank you for your donation to help proclaim the Gospel 'til the whole world hears.
Thank you!
Jack Graham
PowerPoint Ministries