PowerPoint - Oct. 13, 2009
The price of disobedience
October 13, 2009
But Jonah rose to flee to Tarshish from the presence of the Lord…

--Jonah 1:3
It's never a good idea to try to run away from God. But Jonah was someone who tried to do just that. As you can see in today's passage, he ran from the purpose God had for his life.
Maybe you remember Jonah's story. God told him to go to Nineveh to speak against the evil there. But Jonah resisted God's call, and instead bought a ticket on a ship headed for Tarshish, a city in the opposite direction of Nineveh!
While Jonah slept on the ship, thinking he had outsmarted God, a storm began to rage. He awoke to face the fury of God's discipline, which included being thrown overboard and swallowed by a great fish, where he stayed until he repented.
You see, disobedience to God is costly. I heard it said once that sin will take you farther than you wanted to go, cost you more than you wanted to pay, and keep you longer than you wanted to stay.
So today, if you are running from God and wondering, "Can I ever come back to God?", the answer is yes. While you cannot change your past, you can change your future by running towards him!
SIN WILL TAKE YOU FARTHER THAN YOU WANTED TO GO, COST YOU MORE THAN YOU WANTED TO PAY, AND KEEP YOU LONGER THAN YOU WANTED TO STAY.
---
For more from PowerPoint Ministries and Dr. Jack Graham, please visit www.jackgraham.org
and
click here to listen to Dr. Graham's daily broadcast on OnePlace.com.
OUR THANKS TO YOU!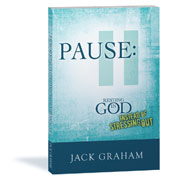 Pause: Resting in God Instead of Stressing Out
Dear Friend,
Do the words rested... peaceful... and refreshed describe you today? Or do the words stressed... rushed... and pressured better describe your way of life?
If you're like most Christians, you'd probably have to admit those last three words more accurately describe your life most of the time!
The good news is that it doesn't have to be this way... even when your life is one big pressure-cooker. And in my new book, Pause: Resting in God Instead of Stressing Out, I'll show you why.
Based on the principles from Paul's letter to the Philippians and Psalm 23, Pause: Resting in God Instead of Stressing Out will help you find true peace and rest in a world that is anything but peaceful and restful. It's the perfect "pause" button you need!
So please request your copy of Pause: Resting in God Instead of Stressing Out when you give online today! --Jack Graham