How to carry your cross daily
September 29, 2011
"If anyone would come after me, let him deny himself and take up his cross daily and follow me."
Luke 9:23
I want to ask you a very serious question today: Are you willing to die in faith if necessary? What I mean is this: Is your commitment to what you believe strong enough that you would give your life for it? I'm asking this because if you're commitment is strong enough to die in faith, then your commitment is strong enough to live in faith!
I love Vince Havner's famous quote about American Christianity, "The trouble with Christians is that nobody wants to kill us anymore!" And it's true that many have become so content that they've just gathered in holy huddles in church sanctuaries rather than taking a stand for Christ.
And on school campuses, in our neighborhoods, in business organizations, and in the government, many Christians are increasingly reducing their commitment to the lowest common denominator. They're playing it safe because they're scared of being marginalized!
But our Christ has called us to a cross. He's called us to pick up our cross daily and follow Him. And it's that commitment of the cross—to live or to die—that would advance God's Kingdom. So examine yourself and your commitment to the cross because through you, God's light can shine in the world's darkest corners!
HAVING A FAITH WORTH LIVING FOR IS ONLY POSSIBLE WHEN YOU'RE WILLING TO DIE FOR IT AS WELL. SO COMMIT FULLY TO CARRYING YOUR CROSS DAILY AND ALLOW GOD'S LIGHT TO SHINE THROUGH YOU!
---

For more from PowerPoint Ministries and Dr. Jack Graham, please visit www.jackgraham.org
and
Listen to Dr. Jack Graham's daily broadcast on OnePlace.com.
Watch Jack Graham and Powerpoint Ministries Video Online.
Find real freedom from the worries of life!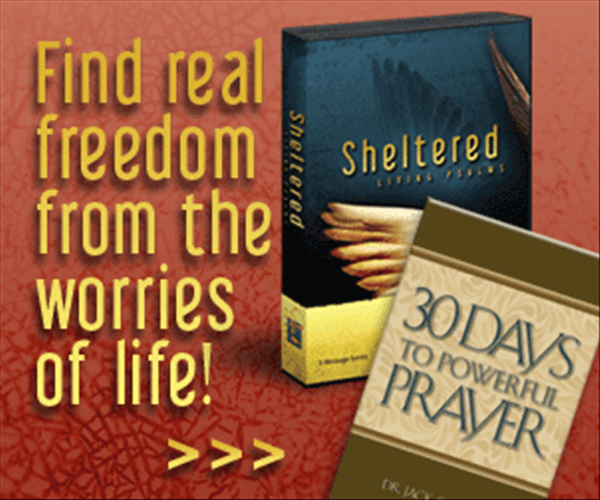 Dear Friend,
If you're like many people today, you probably spend so much time and energy just trying to keep up that you rarely get a chance to simply unplug. And when the stresses and worries of life overwhelm you, they drain the joy God wants you to have.
That's why I want to send you my brand new 5-message CD series called Sheltered. In it, I'll take you to some of the most beloved Psalms to show you how God shelters and protects you no matter what you may be experiencing in life.
In addition to Sheltered, I also want to help you jump-start your prayer life by sending you my prayer journal called 30 Days to Powerful Prayer.
This special ministry combination pack is my gift to thank you for your online gift to PowerPoint today. I truly hope it blesses you as you discover the shelter you can have from life's worries and cares.
Thank you for your gift. You are truly a blessing!
Jack Graham