Riches to Rags
A little sleep, a little slumber, a little folding of the hands to rest—and poverty will come on you like a thief and scarcity like an armed man. >Proverbs 24:33-34
Proverbs tells us that "idle hands are the devil's workshop," and it warns that unless we are diligent, unless we work hard, unless we look after our material well-being, poverty can come upon us like a "thief"; material scarcity can come upon us like an "armed man." Sloth is one of the seven deadly sins in the Bible. And it's not just that lack of effort can lead to material poverty, but to spiritual poverty as well. As Americans we have been born into a land of opportunity. We should be thankful for that opportunity, and we should wake up every day looking to make the most of it—to better ourselves, our family, our nation. America, if she is to survive, has to be a nation of doers.
Sweet Freedom in Action
Today, wake up! Get up! Strive to be ambitious in every area of life so that you will reap the rewards of your labor, both on earth and in heaven.
---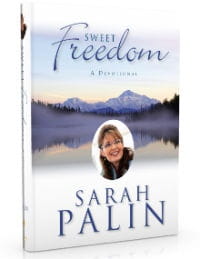 In Sweet Freedom, Sarah Palin invites you to draw strength and inspiration from 260 meditations based on guiding Biblical verses. You are not alone in your doubts and anxieties—we all bear the burdens of everyday stresses, and for most of us, our concerns spread beyond our selves to our families, communities, and country. But Palin shows that with abiding faith, and by opening ourselves to the truths that have saved mankind for generations, we can thrive—and experience true freedom.