Week 1
Consuming the Word—Finally a Diet that Works
They are more precious than gold, than much pure gold; they are sweeter than honey, than honey from the honeycomb. Psalm 19:10
Thank you for joining me on this journey! As we go through the next year together, day by day, know that dedicating yourself to praying, studying, and taking action will benefit your soul. I'm counting on that too.
In today's culture where God's Words—for example, His Ten Commandments—are literally pried off the wall to be warehoused in some dusty museum basement, it's easy to forget that we should meditate on them (Ps. 119); use them as a life tool (Heb. 4:12); and mine them for deep truths (2 Tim. 3:16–17). Psalm 19 describes God's Words as being precious, pure, sweet, valuable, and foundational for wisdom.
Sweet Freedom in Action
Today, invite someone to talk about how they're doing spiritually. Encourage them to eat up God's Word for the inspiration, answers, and healthy life that He intends.
---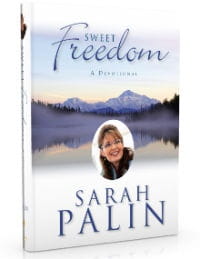 In Sweet Freedom, Sarah Palin invites you to draw strength and inspiration from 260 meditations based on guiding Biblical verses. You are not alone in your doubts and anxieties—we all bear the burdens of everyday stresses, and for most of us, our concerns spread beyond our selves to our families, communities, and country. But Palin shows that with abiding faith, and by opening ourselves to the truths that have saved mankind for generations, we can thrive—and experience true freedom.