Week 46
First Responders Instructed to Pray
In my distress I called to the Lord; I cried to my God for help. From his temple he heard my voice; my cry came before him, into his ears. 
Psalm 18:6
"Can I do anything to help?" We've offered this to more than one person going through a hard time.
"Only pray," he or she might respond.
If I'm honest, I'm always a little disappointed in that answer. There's a part of me that likes to go into action when bad things happen, when my friends or family are in trouble. Tangible actions make me feel like I'm actually helping...like I've stepped into the situation and moved the dial just a bit toward "better," and I can admit that "just" praying doesn't always seem sufficient.
Maybe this admits to a misunderstanding of the latent, untapped power of prayer.
Oswald Chambers said, "We tend to use prayer as a last resort, but God wants it to be our first line of defense. We pray when there's nothing else we can do, but God wants us to pray before we do anything at all."
Sweet Freedom In Action
Today, think of the people in your life who are struggling. Before you shut this book, decide to help them, but first and foremost, pray for them and accept the Holy Spirit's assurance in prayer's sufficiency.
---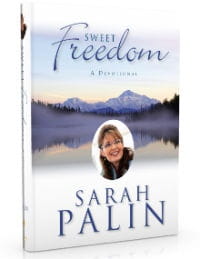 In Sweet Freedom, Sarah Palin invites you to draw strength and inspiration from 260 meditations based on guiding Biblical verses. You are not alone in your doubts and anxieties—we all bear the burdens of everyday stresses, and for most of us, our concerns spread beyond our selves to our families, communities, and country. But Palin shows that with abiding faith, and by opening ourselves to the truths that have saved mankind for generations, we can thrive—and experience true freedom.