Week 43
He's the Overcomer, I'm Not
...for everyone born of God overcomes the world. This is the victory that has overcome the world, even our faith. Who is it that overcomes the world? Only the one who believes that Jesus is the Son of God.
 1 John 5:4-5
We'll never actually overcome the world, but having a relationship with God allows us to survive it as He does the overcoming. When writing this page, I think of my youngest son's babysitter. Karen is a saint. It's been a heck of a season for me, but much more so for Karen, whose husband is fighting pancreatic cancer as I write this. When I read this verse, I think of those who experience real hardships, real tragedy, and I'm in awe of their resilience. Our Savior is the ultimate overcomer. Karen and I have concluded that relying on Him is the only way we can survive this world and its hardships. He does the overcoming for us.
As much as I rely on self-discipline and dogged determination to accomplish a task or to get through another trial, I find that having faith in God and turning to Him with hope is really the only way to deal with life.
Karen and I are united in the hope of Christ. I hope you are too.
Sweet Freedom in Action
Today, reflect on how you handle your serious struggles in life. Who— or what—do you turn to for guidance and support? If it's not God, then you need to remind yourself of this passage of Scripture, and of He who overcomes the world.
---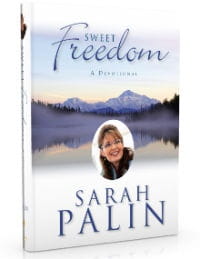 In Sweet Freedom, Sarah Palin invites you to draw strength and inspiration from 260 meditations based on guiding Biblical verses. You are not alone in your doubts and anxieties—we all bear the burdens of everyday stresses, and for most of us, our concerns spread beyond our selves to our families, communities, and country. But Palin shows that with abiding faith, and by opening ourselves to the truths that have saved mankind for generations, we can thrive—and experience true freedom.