Week 39
I Can't Do Everything, But I Can Do Everything I Can
He said to them, "Go into all the world and preach the gospel to all creation." >Mark 16:15
The topic of evangelism can be scary because we sometimes think we have to go into the rugged, dangerous areas of the world as missionaries in order to effectively share the Good News of Christ. But there is plenty of domestic missionary work to be done here in America, spreading the Gospel, caring for the unwanted, and helping the poor and the struggling. Not everyone is called to be a missionary overseas.
As Christians, we should also share the Gospel message in word and live it in action. We know that we can't do everything, but we can do everything we can. We're all called in unique ways to "go into all the world and preach the Gospel." Maybe that means hacking through Guatemalan jungles to meet a community's medical need, installing water purification systems on an Indian reservation, or rebuilding an Eskimo village's burned- down schoolhouse. Or it could mean something closer to home, like contributing to crisis pregnancy or hospice care centers. No matter how big or small, we can all do something.
Sweet Freedom in Action
Today, reflect on how you can be the best evangelist. It might be donating to a foreign mission. It might be helping others become missionaries. Or it just might be that time in your life when you feel called to traverse for- eign jungles, scorched deserts, or frozen tundra to offer a hand to those in need. Whatever you're called to do, don't just think about it—do it!
---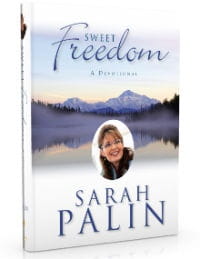 In Sweet Freedom, Sarah Palin invites you to draw strength and inspiration from 260 meditations based on guiding Biblical verses. You are not alone in your doubts and anxieties—we all bear the burdens of everyday stresses, and for most of us, our concerns spread beyond our selves to our families, communities, and country. But Palin shows that with abiding faith, and by opening ourselves to the truths that have saved mankind for generations, we can thrive—and experience true freedom.