In Touch Daily Devotional 
by Dr. Charles Stanley
---
October 11, 2006 Expressions of God's Goodness Hebrews 4:15-16
Imagine someone asking you if God has been good to you. What ideas pop into your head? Do you think about material possessions like a luxury car or a big house? Those things are nice. But even if you don't have any external signs of His blessing, you can still say God has been good.
God's goodness is expressed through His mercy. We usually talk about the Lord's mercy in relation to His salvation plan. It provides for our rescue from slavery to sin. But, God is also concerned when we are suffering. The blind beggar, Bartimaeus, called out to Jesus for mercy, and the Lord responded by healing the man's eyes (Mark 10:47-52). Nothing in Bartimaeus deserved mercy, but it's God's nature to respond to the needs of His children.
God's goodness is expressed through His grace. None of us, no matter how "good" we might be, deserve God's favor. And yet, because of His goodness, the Lord took our guilt upon Himself. He suffered the death penalty in our place because we are helpless to save ourselves. When we accept Jesus Christ as Savior, we're invited to live by God's grace and constantly receive His help and support.
God's goodness is expressed through His love. An ocean is like a drop of water when compared to how much the Lord cares for us. No sin we can commit could ever place us beyond the reach of His caring. Because of God's great love, He sent His Son to die for your sins. Now, He offers you mercy in times of trouble and grace to live by. God is indeed good to you.
 
FEATURED RESOURCE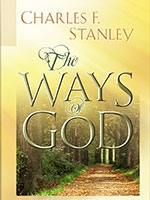 The Ways of God
from Dr. Charles Stanley
God's ways are always perfect, and following them leads to fulfillment and success. One of life's undeniable truths is that your choices will ultimately determine your future. While you can decide for yourself what career field to enter or who to marry, nothing compares with seeking God first and relying on the wonderful principles of His Word. In this series, Dr. Stanley teaches that as you serve God and seek His ways, you'll be blessed with peace, wisdom, and guidance for the journey ahead. Order here  now!
To see more resources from In Touch Ministries, please visit us at www.intouch.org  or go directly to our bookstore at In Touch Ministries.