3 Ways Resurrection Power Can Completely Transform Lives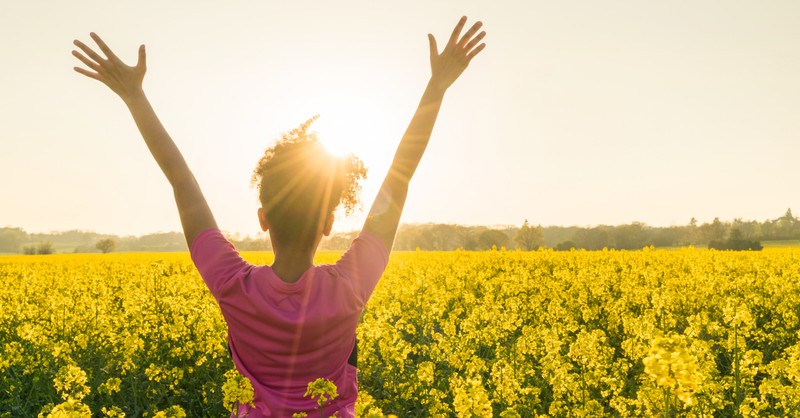 by John D. Barry
We all have moments of despair, but there are also the days when the sun peeks through the clouds and we stop and say, "You know, God really is here and working among us. I'm not alone at all." It's these moments that we have to capitalize on. These feelings of new life, of resurrection, can transform our lives and the lives of others.
1. Resurrection gets us through the rough times.
The last month has been rough for me. I have often felt like everything is going the opposite way it should. But today, I realize that Jesus is here. It's not that I didn't believe that before—of course, I did—but today I feel like he is sitting next to me. When I think about Jesus' presence among us, about his resurrected life, I imagine how Mary Magdalene must have felt upon seeing the resurrected Jesus. John's Gospel records:
"Mary stood outside at the tomb, weeping. Then, while she was weeping, she bent over to look into the tomb, and she saw two angels in white, seated one at the head and one at the feet where the body of Jesus had been lying. And they said to her, 'Woman, why are you weeping?' She said to them, 'They have taken away my Lord, and I do not know where they have put him!' When she had said these things, she turned around and saw Jesus standing there, and she did not know that it was Jesus. Jesus said to her, 'Woman, why are you weeping? Who are you looking for?' She thought that it was the gardener, and said to him, 'Sir, if you have carried him away, tell me where you have put him, and I will take him.' Jesus said to her, 'Mary.' She turned around and said to him in Aramaic, 'Rabboni' (which means 'Teacher'). Jesus said to her, 'Do not touch me, for I have not yet ascended to the Father. But go to my brothers and tell them, "I am ascending to my Father and your Father, and my God and your God." ' Mary Magdalene came and announced to the disciples, 'I have seen the Lord.'" (John 20:11–18 LEB).
When you encounter the living Jesus, in the midst of despair, everything changes.
Here's how my viewpoint recently changed: I just had the wonderful opportunity of announcing that the organization I lead, Jesus' Economy, will be able to fund two church planters in northern India for another year. For us, reaching this goal was huge and difficult. And honestly, I wasn't sure if we would make it. But I also couldn't bear the thought of not living up to our commitment to fund these two church planters for three years.
The prompting of being on mission for Jesus, in proclamation of his resurrection, is what kept me going through this rough patch. And God coming through inspired me.
I believe the resurrected Jesus will keep you going, no matter what you're going through.
2. Resurrection is self-sacrificial.
I often think of what various holidays are like for those serving Jesus around the world. Our church planters in northern India are living self-sacrificially everyday, spreading the gospel to those who have never heard Jesus' name. Their lives are living testimonies of who Jesus is. And this puts it all in perspective for me: all of my difficulties do not remotely compare to their hardships. And yet, they get the splendid opportunity of seeing Jesus work everyday—which really makes it all worth it.
Easter resurrection is something real for church planters in northern India: They regularly see lives fully transformed by Jesus. And so, their lives make me wonder how much better and fuller my life would be if I could make the same kind of sacrifice. This makes me think of Jesus' words just prior to the cross:
"This is my commandment: that you love one another just as I have loved you. No one has greater love than this: that someone lay down his life for his friends" (John 15:12–13 LEB).
Living resurrected life with Jesus means living self-sacrificially. And that changes everything. It makes every difficulty an opportunity to do something good for someone else. It takes the perspective off of us, and puts the perspective on God's workings in the world.
3. Resurrection is a fresh perspective on the world.
Until this last month, I thought of thankfulness as an attitude, but it's so much more. Thankfulness is a perspective we look at the world through. As we are grateful for the resurrected life of Christ, and the resurrected life he offers us, our worldview changes.
It's not about saying, "Oh, I'm so grateful I have all this (whatever this is for you)." Thankfulness is saying, "Oh, I'm so grateful that Jesus came for me (for all of us), and that he is with me now—right here." The apostle Paul put it this way:
"One person prefers one day over another day, and another person regards every day alike [for the Sabbath and festivals]. Each one must be fully convinced in his own mind. The one who is intent on the day is intent on it for the Lord, and the one who eats eats for the Lord [in celebration], because he is thankful to God, and the one who does not eat does not eat for the Lord [that is he fasts], and he is thankful to God. For none of us lives for himself and none dies for himself. For if we live, we live for the Lord, and if we die, we die for the Lord. Therefore whether we live or whether we die, we are the Lord's. For Christ died and became alive again for this reason, in order that he might be Lord of both the dead and the living" (Romans 14:5–9 LEB).
Paul is talking about various viewpoints for feasting, celebration, worship services, and fasting among his audience, but this has a direct implication for us. Whatever we do, let us do it for Christ, in thankfulness—in order that he might be Lord over all things in our lives, in every season.
It's this perspective that perfectly fits with the Easter season, when we celebrate Jesus' resurrection for each of us, for all of us. This season we celebrate Jesus' resurrected life and his resurrection of our lives.
I'm not saying that this sorts everything out; like all of us, I still get depressed along the way. But today on the other side of this, I feel different—today, I realize that God is much greater than I could ever imagine. Today, I realize that he indeed always comes through—he resurrects our efforts and turns them into something beautiful.
Photo credit: ©GettyImages/dmbaker
---
John D. Barry is the CEO and Founder of Jesus' Economy, dedicated to creating jobs and churches in the developing world. Because of John's belief that business can also transform lives, Jesus' Economy also provides an online fair trade shop. He is currently leading Jesus' Economy efforts to Renew Bihar, India—one of the most impoverished places in the world where few have heard the name of Jesus.