How to Find Your True Identity in Christ
Whitney Hopler

Crosswalk.com Contributing Writer

2013

14 Jan

COMMENTS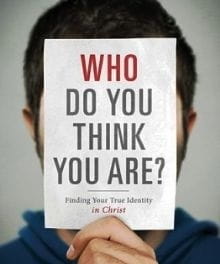 Editor's Note: The following is a report on the practical applications of Mark Driscoll's new book, Who Do You Think You Are?: Finding Your True Identity in Christ (Thomas Nelson, 2013).
Who are you? That's a question many people struggle to answer.
Too often, people base their identities on what they do (from their jobs to their roles in relationships), defining themselves by those pursuits. But by doing so, they significantly limit their lives. The truth is that God intends for all people to find their identity in Christ.
If you're a Christian, your identity encompasses all the abundance of being a beloved child of God. Here's how you can start living your life fully in Christ, keeping in mind that:
You're a saint. The fact that you've placed your trust in Jesus Christ is enough to qualify you to be a saint. Even though you'll still struggle with sin while you live in this fallen world, your core identity as a Christian is as a saint, not a sinner – and you can always count on Jesus' help to overcome sin in your life. Rely on His help to resist temptation. When you do sin, confess and repent. Maintain attitudes of humility and gratitude for God's grace.
You're blessed. God has given you the greatest blessing of all – Himself. No matter what other blessings God may or may not choose to send into your life, you can always be confident that God Himself will be with you, loving you, and working everything in your life out for good purposes when you trust Him to do so. God also brings many different, specific blessings into your life regularly. Make a habit of reflecting on those blessings every day (or every week) and thanking Him for them.
You're appreciated. God notices and appreciates every good choice you make throughout your life – even when other people don't. So change the way you live as a result. Exchange grumbling for praying, competing for celebrating, bitterness for thankfulness, performing for serving, and boasting for encouraging.
You're saved. Thanks to Jesus' sacrifice on the cross, you're saved from: sin, death, Satan, your old human nature, and a pattern of worldly living. You can respond in gratitude to your salvation by doing good works that God has prepared for you to do, to help others discover relationships with Him and help redeem this fallen world.
You're reconciled. Jesus has spiritually reconciled you to God and other believers. Since God plans for all Christians – from all the diverse types of backgrounds on Earth – to live harmoniously together in heaven forever, you should do your best to live harmoniously here and now. Ask the Holy Spirit to help you be peaceful, humble, and compassionate toward other people.
You're afflicted. Everyone in this fallen world – Christians and non-Christians alike – must endure suffering. However, as a Christian, your suffering can accomplish good, redemptive purposes. Rather than asking "Why?" when you suffer, ask "Who?" instead, shifting your focus from trying to figure out something that you may not be able to understand and toward seeking God Himself, who promises to always be with you. Ask Jesus to use the suffering you experience to make you more like Him and point more people to Him.
You're heard. God always hears and responds to your prayers when you're connected to Him through Jesus. Feel free to confidently express any of your thoughts and feelings to God at any time, expecting Him to listen to you and answer your prayers according to what's best for you.
You're gifted. God has given you special abilities that He wants you to use in the Christian ministry work He calls you to do – both inside your church, and out in your community. You can discover those gifts by asking yourself questions like: "Whom/where do you have a passion to serve?", What do you have a burden to do?", "What needs do you see in the church?", "What do you find joy in doing for others?", "What opportunities has God already provided for you to serve others?", "What things are you best at and have the most success in?", "What have godly people commended you for doing?", and "What acts of service have given you the deepest sense of satisfaction?"
You're new. Jesus placed a new spirit within you when you began a relationship with Him, so, at your core, you're a new person than who you were before you became a Christian. However, you'll keep learning and growing every day for the rest of your life as you gradually become more like Jesus.
You're forgiven. Since Jesus paid the price that God's justice demands for your sin and took God's wrath for you upon Himself, you were forgiven for all of your sins (past, present, and future), when you placed your trust in Jesus. You can thank Jesus for forgiving you by obeying His commands to forgive others who have harmed you and to seek forgiveness from people you've harmed.
You're adopted. As a Christian, you've been adopted into God's family. The work of your big brother – Jesus – on the cross has made it possible for you to become one of the sons or daughters of God the Father. So make your main goal of life learning how to know, love, and trust God as your Father.
You're loved. While the people who love you can't do so completely unselfishly, continually, or perfectly, God does. As a Christian, nothing can ever separate you from God's great love for you.
You're rewarded. God will reward you for everything faithful and holy that you do as a Christian. Although you can't earn your salvation, after you've been saved you can earn rewards in heaven for the work you do serving God on Earth.
You're victorious. Jesus has given you the power to ultimately overcome evil, sin, and death. Use the spiritual weapons at your disposal as a Christian (truth, righteousness, the Gospel, faith, salvation, scripture, prayer, and the strength to stand) in spiritual battles, trusting that you can always emerge victorious.
Adapted from Who Do You Think You Are?: Finding Your True Identity in Christ, copyright 2013 by Mark Driscoll. Published by Thomas Nelson Publishers, Nashville, Tn., www.thomasnelson.com.
Mark Driscoll pastors Mars Hill Church in Seattle, Washington, one of the fastest-growing churches in the nation. He is the author or coauthor of 12 books, including Real Marriage and Doctrine: What Christians Should Believe. Mark and his wife, Grace, have five children. Visit his website here.
Whitney Hopler is a freelance writer and editor who serves as both a Crosswalk.com contributing writer and the editor of About.com's site on angels and miracles. Contact Whitney at: angels@aboutguide.com to send in a true story of an angelic encounter or a miraculous experience like an answered prayer.
Publication date: January 14, 2013