Traditions that Bring Christ Home - Part 1
Paula Moldenhauer

Contributing Writer

2005

7 Dec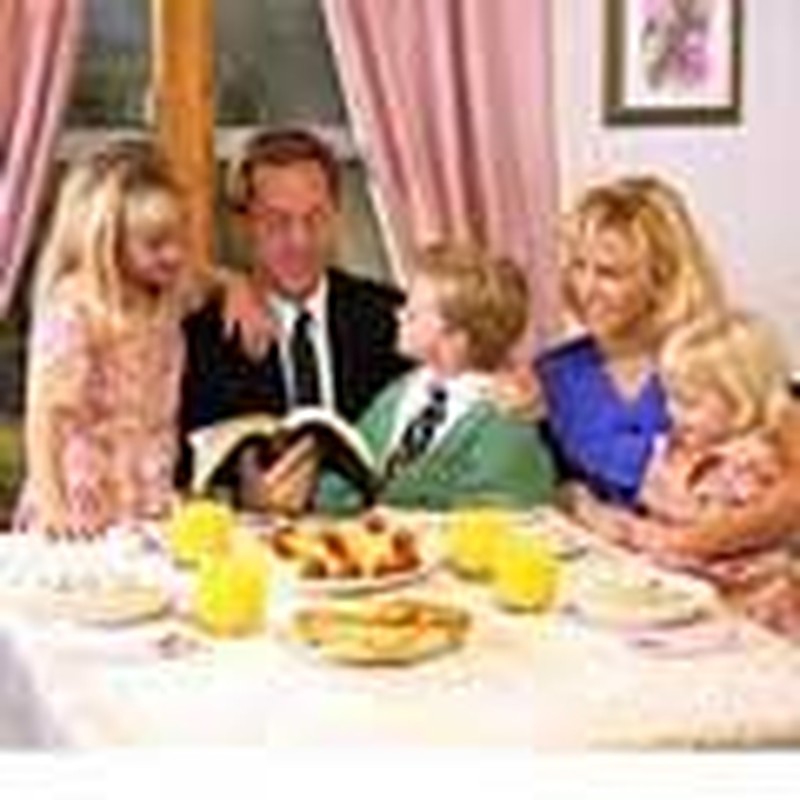 Chestnuts roasting on an open fire, Jack Frost nipping at your nose . . . O little town of Bethlehem how still we see thee lie . . . City side walks, busy sidewalks dressed in holiday style . . . Joy to the world! The Lord is come!
The ways Americans celebrate Christmas are as varied as the songs of the season flooding the radio airways. As the holiday bursts upon us, starting with Christmas decorations in some stores as early as October, many families wonder if their celebration of the birth of Christ will be lost in a mound of presents and a pile of stress. But across our nation families are choosing meaningful traditions with the intention of bringing the focus of Christ firmly into their home for their Christmas celebration.
Teaching with Decorations
Pulling out the Christmas decorations isn't about making a fashion statement, and while the endeavor of creating something beautiful can be an act of worship, many families take it a step further. "It's important to tell your children the symbolism behind your decorations," says Rose McCauley, a grandmother. "They may not understand that you put on angel on the top of the tree because the angels announced Christ's birth."
When her children were small, Rose used her decorations to instill truth about Christ and create warm family memories. One tradition included sleeping under the Christmas lights one night of winter vacation. As they lay in the quiet, under the twinkling bulbs, she talked with her children about how Jesus is the light of the world. This family time now extends to her granddaughters, who carry on the same tradition their mom enjoyed.
Gina Conroy's family adds something special to their stockings--a letter to Jesus, which they write as a family. On Christmas Eve, they reread past letters, allowing the family to see how God has been woven into their family history.
Carrie Turransky, author, homeschooling mom, and wife of Dr. Scott Turansky, founder of The National Center for Biblical Parenting (www.biblicalparenting.org),
suggests making a manger out of cardboard, placing it in a prominent place in your home, and purchasing a stash of hay. "Give the kids examples of ways they can perform secret acts of kindness for family members," she says. "Every time a family member does a secret kindness, he can add a piece of straw to the manger. Talk with your children about how our loving actions prepare our hearts and the manger for Jesus to be born. Then, on Christmas Eve, have fun telling stories of the kindnesses that you did for each other."
Carrie and Rose McCauley also agree it's important to have at least one nativity set that is unbreakable and placed where even young children can play with it. "Encourage them to arrange the figures as you talk about the story of Christ's birth," says Carrie.
Homeschooling mom and pastor's wife, Karla Doyle, adds another dimension to the idea of using the nativity as a teaching tool. On Christmas morning, she hides a present with each piece of the nativity. As they read the story of Christ's birth from the Bible, they pause when one of those pieces is mentioned. Their children search for the figurine and when they've found it are allowed to open the present. "This keeps our gift-giving focused on the greatest gift of all, the birth of Jesus," said Karla. She adds with a twinkle, "It is also the only day of the year you can hear my children begging, 'please read the Bible, Dad, hurry, what's the next verse?'"
Another family, who chooses not to do presents on Christmas morning, has adapted this tradition by hiding a set of instructions with each hidden figurine. When the piece is found, the children read the directions and follow them. The instructions include things like: "sing 'Joy to the World'", which is the instruction placed with baby Jesus; or "say something you appreciate about dad", which is hidden with the Joseph figurine.
De-emphasizing Commercialism
Some families choose to avoid, limit, or re-package the tradition of gift giving on Christmas morning. The James' family chooses not to buy many gifts for each other, or sometimes none at all. "We want the focus to be on giving and what Christ has done," said mom, Pamela, "not on the presents."
Vasthi's family limits the gifts. "We're very blessed so we have to avoid the temptation to over-give to our children. They each get three gifts because that is what Jesus received from the Magi."
Another family chooses not to give each other gifts at all on Christmas day, but later during the Christmas vacation has a treasure hunt. The mom writes riddles telling the children where the gifts are hidden and who they are for. The riddle might lead the children to a big box full of new socks for everyone or to a specific present for one of the children. A gift the whole family can enjoy together, like a game, snack, or craft is found at the end and shared.
Cynthia Ruchti's family does do the traditional gift exchange, but has added a special tradition to help them not only to focus on giving instead of receiving, but also to remember her dad, who modeled this behavior for them. Each Christmas season the family sets up what they call the Richard H. Johnson memorial fund. Everyone contributes, even the littlest grandkids, and then the family donates to a charitable organization. "We lost my dad, a godly man in 1993," said Cynthia. "We all miss him terribly, but the tradition has brought such joy and rekindles thoughts of him in the middle of our Christmas gathering. Our favorite gift year was when we located the orphanage in Korea where he visited as a young marine and distributed gifts and candy to the orphans."
The family contribution was sent to the orphanage, which now specializes in handicapped children and adults. "It was an amazing search to find the place. All we had was a handful of old photos and a little embroidered apron with the words 'Nam Buk Orphanage,'" said Cynthia. "but the effort was well worth it."
--------------------
A home schooling mother of four, Paula Moldenhauer is passionate about God's grace and intimacy with Jesus. Her website offers home schooling hints, book reviews, and a free weekly devotional, Soul Scents. Subscribe to Soul Scents at www.soulscents.us. You can contact Paula at Paula@soulscents.us.