Vision, Plus Values, Plus Vigilance Equals Victory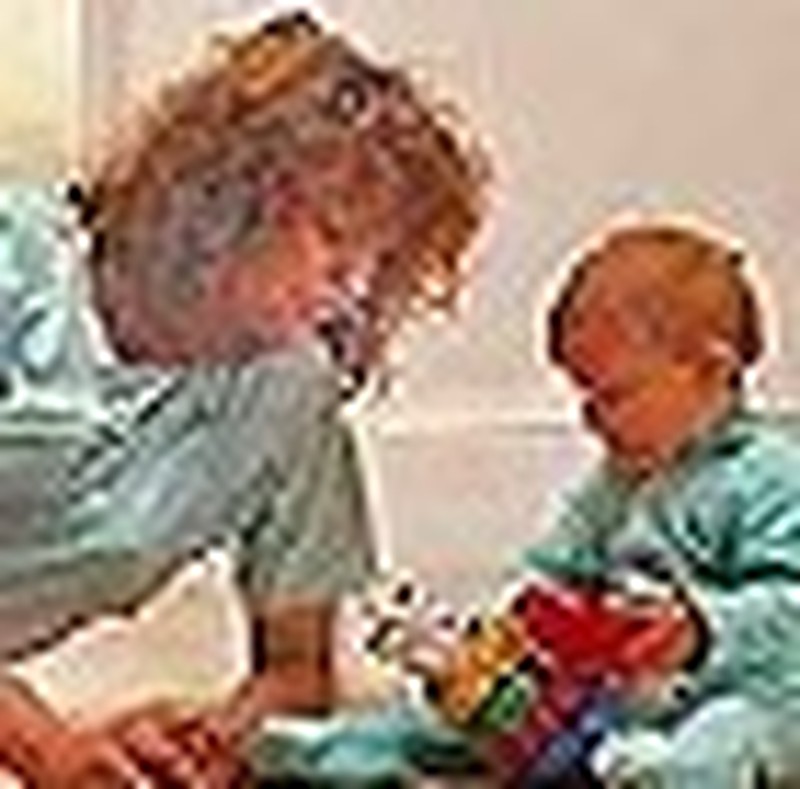 Do you know why you do what you are doing? Proverbs 29:18 tells us, "Where there is no vision, the people will perish." (NIV) Similarly, where there is no vision, the home school will perish. When you first considered home schooling, you had good reasons. When times get tough, it is helpful to have those good reasons fresh in your mind.
With a home schooling vision and commitment to the task, we are saying that we value our children and we value our work as parents. We value it so much that we do not want to delegate their training to someone else. With our commitment, we exercise vigilance in our teaching and we pray we will see the result of that vision, values and vigilance in our children in their adulthood.
How do we lay this foundation?
In the Beginning
When we begin a project, we often start with the end in mind. Would a builder lay the foundation for a house without having studied blueprints of the finished product? Would a seamstress cut her fabric without knowing what kind of garment she was making?
So too in our home school we must keep that end picture in our minds. What do we want out children to be in maturity? If we really want to simply train an accountant or actuary, that job could be left to professional trainers.
But if we want to raise up adults who hunger for the knowledge and fellowship of God, who have a burden to share that joy with others, and who develop their unique talents and abilities, we must carefully nurture that mind and soul while it is young.
Matthew 8: 24-27 tells the story about the man who built his house on sand. He was focused on the things of the world, just as we are tempted today to leave the training of our children to the experts. Another man built his house on rock. He laid a firm foundation and was able to withstand the inevitable storms.
Second, Peter 1: 5-7 tells us, "Make every effort to add to your faith goodness; and to goodness, knowledge; and to knowledge, self-control; and to self-control, perseverance; and to perseverance, godliness; and to godliness, brotherly kindness; and to brotherly kindness, love." Faith and goodness must come first in our goal setting for our children. Only then do we focus on knowledge, then self-control. perseverance, godliness, brotherly kindness and love. If we keep these goals in order and our hearts in order, then we will raise up a generation equipped and ready to be effective and productive for our Lord Jesus Christ.
Before we had children, we never heard of home schooling. It was a foreign concept to us. We grew into the idea as we spent a lot of time thinking about what we wanted for our children. We began to feel that we were in a real tug of war with the way of the world
At the time, I thought we were pretty weird, but I now see our struggle as a healthy thing. I now know that we really are in a tug of war with the way of the world and that we must choose the side on which we will stand. We have the choice of building our family on the shifting sands of the values of our post-Christian culture, or to build it on the rock of faith in Jesus Christ and all He represents.
Our family home-schooling mission statement reflects that we have chosen to pound a stake in the ground. We will stand against the ravages of our turbulent, valueless times. We choose to home school on the side of our Lord Jesus Christ. To us, that encompasses:
S - Strength in family relationships
I - Intimacy with Jesus
D - Depth in spirituality
E - Excellence in academics and life preparation
S - Sanity in social and emotional realms
A mission statement is not a statement of goals. The mission is the foundation upon which goals are based. While goals may change from one school term to the next, the mission or vision for our family remains constant.
Whether you are a new home schooler or are beginning a fresh season of home schooling, taking the time now to clarify and focus your home-schooling vision will keep you encouraged and will help you sort out the many paths available to you. If an activity, book, approach or method will sustain your mission, it is a good choice. If it will detract from your mission, it should be disregarded.
(This article will be continued in Part II.)
Christine M. Field practiced law for eight years before becoming a full-time Mommy. She and her husband live and home school their four children in Wheaton, Illinois where her husband serves as Chief of Police. Three of their four children are adopted, one through a private adoption and two are from Korea. She is the author of several books, including Coming Home to Raise Your Children (Fleming Revell, 1995), Should You Adopt? (Fleming Revell, 1997) A Field Guide to Home Schooling (Fleming Revell, 1998), and Life Skills for Kids (Harold Shaw/WaterBrook, 2000). Her fifth book, Help for the Harried Home Schooler (Shaw/WaterBrook 2002) will be available in January 2002. In addition to her contribution to Crosswalk.com, she writes columns for several magazines, including Home School Digest and Open Arms Magazine. Her work appears regularly in Hearts at Home Magazine and others. Her articles on life skills have appeared in Focus on the Family Magazine and Single Parent Family.
Christine loves to encourage others. She has spoken to many groups, including small fellowships and large conventions. To contact her about speaking to your group, or to share your tips and ideas about home schooling, you may email her at FieldFamily@HomeFieldAdvantage.org or visit her website at www.HomeFieldAdvantage.org. You may write to her at The Home Field Advantage, P.O. Box 261, Wheaton, IL 60189-0261.