How to Combine Traditions for Your First Christmas Together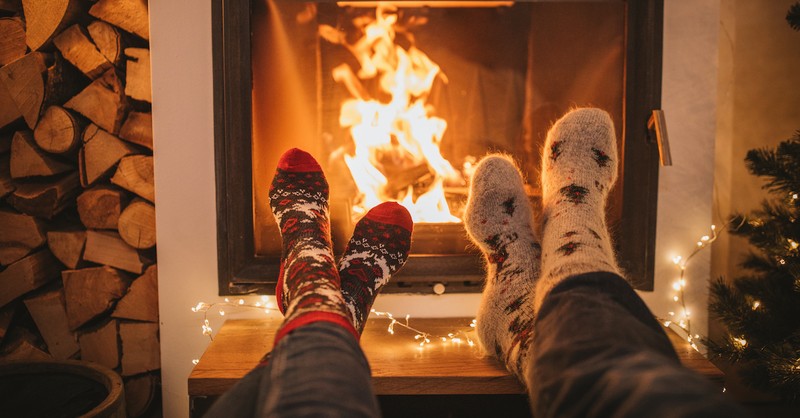 Christmas is the most magical time of the year! If you are newly married, there is even more than ever to be thankful for this holiday season. This is the year you get to attend all the holiday get-togethers as man and wife! It's the year you get to join in your extended family's holiday traditions fully. It's a year full of firsts for your new little family.
It's the first year you get to decorate your home, put up a tree, and enjoy late-night Christmas movies together! There is so much joy to be shared together over the holiday season. Creating a home full of tradition and love is one of the great privileges of becoming man and wife.
While this is so full of excitement, it also can be tricky deciding which traditions will become yours. Chances are, your families celebrated the holidays differently, and now you have to choose which traditions to make your own, which new traditions you may want to start, and which once need to be abandoned. Here are a few tips to help you decipher what you want the holidays to feel like in your home from now on as a married couple.
1. Fill Your Home with Memories
The holidays really are so special because of all the sweet memories we get the chance to make with our loved ones! Everything from taking the decorations down from the attic, selecting or assembling your tree, finding the right gifts for friends and family, worshipping together, and the list goes on! Focus your energy as a couple on how you want to cultivate more annual holiday memories. Think of how you want to remember this time of year and what you want it to feel like in your home as you prepare for Christmas. Choose traditions that cultivate joy-filled experiences for your family for the years to come. Don't worry as the years go on and as your family grows or changes, you can add to these traditions. You don't have to do everything this first year, but it's a special moment for you to begin creating special moments as a couple that you will cherish forever.
Photo credit: ©Getty/g-stockstudio
2. Honor Family Traditions
Every family has a unique way that they celebrate the holidays. Some families have elves on shelves, some celebrate with gifts from Santa, some read and pray through the advent season, and others open presents on Christmas Eve or bake special cookies every Christmas. We each come from a family unit that has a particular culture and way of doing things. Share which holiday traditions meant the most to you growing up and find ways to honor those special rituals in your own home. Incorporating things that were special to you when you grew up can add even more meaning to the holiday traditions you embrace as a newly married couple. Choose together a few ways you want to honor your roots by participating in the same traditions as a couple.
3. Create New Traditions
While it's special to honor the traditions from each of your growing-up years, it's important to create some new traditions for just your family. It's your chance to make your own mark as a couple! If you are in a new city, it would be a great time to take advantage of the special holiday events specific to your area. People go BIG with tacky lights where we live, so we take an annual car tour of our favorite lit-up homes.
Maybe you plan a special dinner out to a festive restaurant or attend a special Christmas Eve service together. It could be fun to be the couple that throws a big holiday party to celebrate with loved ones. Maybe you spend part of the holiday serving together for a local nonprofit or your church. Come up with your particular way of celebrating this joyous season together.
4. Decide the Best Way to Spend Time with Extended Family
Determining how to share your time over the holidays can be tricky. You likely both have extended family you want to see, friends to celebrate with, and you also want time for your own family unit to be together. If your extended families aren't local or have competing holiday events, it can be tricky to decide where to be when.
Have an honest talk about what events are most important to each other and come up with a way to share your families for the holidays. One solution would be to alternate spending Thanksgiving with one side of the family and then Christmas with the other side. Some families see one family on Christmas Day and another on Christmas Eve. Do what you can to make sure you both get to connect with your extended families over the holiday season but don't feel like you have to say yes to everything. Setting boundaries around your time is an essential skill that you will need over the life of your marriage.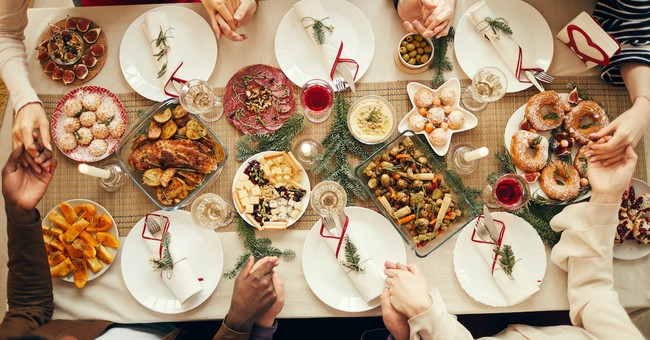 Photo credit: ©GettyImages/SeventyFour
5. Prioritize Generosity
The holiday season can become a crazed dash to get to December 25th! Our time can get so filled with parties, gifts, and a lot of indulgences. Set a precedent now of using this season as a chance to give generously to those in need. This time is not just about blessing our friends and family but about remembering our Savior. This season is about pausing to give thanks for the Way that Jesus shows us, and his Way is marked by generous and sacrificial living. Choose a place to sow into together this year and make a point to be a family that loves others well over the holiday season. Get involved at church, choose a nonprofit to donate to, bless another family with holiday gifts, or spend time with those who may be feeling lonely or downcast over the holidays. These are all simple ways to give your time and resources to those who need some extra love over Christmas.
6. Make Time for Just Your Family Unit
There is so much joy gained from gathering with friends and family but taking time to do a few things just with your little family unit over the holidays is also precious. These "just the two of you" traditions are such a sweet memory-making opportunity for your new family. Maybe it's baking special treats together, setting aside a gift exchange time for just the two of you, having a holiday movie marathon, or evening family advent readings leading up to Christmas. Whatever you choose as your family tradition, find space for your new family to connect and reflect each year over the holidays.
7. Communicate Openly About Your Holiday Expectations
The key to success in any marriage comes with open and thorough communication. Set this trend from the start of fully discussing important decisions such as how to celebrate the holidays together. Make time to talk through your expectations, hopes, what events you guys may want to attend together, and more. This practice of making time to plan and choose together how to spend your time will serve you well for the many years to come.
Embrace the magic of the holiday season together! It's the perfect time to have the most wonderful Christmas of all. Enjoy spending time together and with loved ones as you create memories as a new couple. Don't forget to make faith central in how you approach this time of year. Be intentional about prioritizing generosity, reflection, and worship even amid all the holiday hustle and bustle.
Photo credit: ©GettyImages/svetikd
---

Amanda Idleman is a writer whose passion is to encourage others to live joyfully. She writes devotions for My Daily Bible Verse Devotional and Podcast, Crosswalk Couples Devotional, the Daily Devotional App, she has work published with Her View from Home, on the MOPS Blog, and is a regular contributor for Crosswalk.com. You can find out more about Amanda on her Facebook Page or follow her on Instagram.