Time Management in Marriage: A Common Source of Friction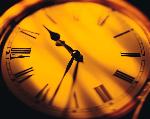 A fresh perspective…
Tobi Layton

I love my in-laws. So why did I find myself slumped in the front seat, grumbling about a trip to their house one weekend? Every weekend, a similar disagreement would arise. My husband, Ryan, was ready to relax after a hard week, but didn't want to be stuck sitting around the house.

I, too, was ready to kick back after the workweek. However, my idea of relaxing involves puttering around our home, working on various projects. My discontentment didn't revolve around where we were going. It was that we were going. And like every other weekend excursion, once I got to our destination, I had a great time and was thankful Ryan had dragged me out of the house. Yet next weekend, he'll undoubtedly have to drag again. I like to be busy, but I'm a major homebody. I want to be spontaneous, but I need to plan ahead.

I have come to realize that maybe my problem with our weekend plans is more of a control issue. I want to make plans on my terms. If a trip to visit family is my idea, I don't mind leaving the house. But if Ryan suggests an outing, I don't want to give up the day I've already planned for myself—a day full of organizing magazine clippings and updating my address book. (And yes, I really do look forward to doing such tasks!)

Time management is one aspect of marriage that many are unprepared for. When you're dating, you have your personal time and your couple time. Marry, move in together, and everything changes. Now, any hour not spent at work or another previously scheduled appointment enters the realm of "together time." You can't go home when you get tired of your date. You live with him!

I have to admit I actually enjoy when my husband goes out of town for a few days. Yes, I miss him, but I have the house to myself. I don't have to "check in" before running errands. I don't have to share the remote, or ask the dreaded, "So…what do you want to do today?" But how can we schedule our free time in a way that allows us to enjoy each other, rather than looking forward to a day apart?

This summer will be the first test to that dilemma. Ryan and I are both teachers, now faced with three months at home. Together. All day. We have decided to handle our wealth of time like this: I'll do my thing. He'll do his. We'll meet for meals and some "couple time" every now and then. Weekend plans will be discussed in advance and compromises will be reached.

This is a far cry from what I had in mind when I brought up the subject of our summer time (my plan was more scheduled, detailed, and, yes, color-coded), but our solution seems to be working so far. Today, for example, Ryan mowed the lawn and worked with his hounds, while I took our son and ran a few errands. We took a walk and ate supper as a family. Ryan made a few phone calls while I put our son to bed and read a few chapters of a novel. Then we rejoined to watch a movie.

Not too together, but not two separate lives either. And plenty of time to color-coordinate my sock drawer.

A seasoned perspective…
Deborah Raney

How to spend the twenty-four hours of any given day is a question that has been ripe for conflict since the day I met my husband more than thirty-two years ago. When we first started dating, I was always eager to please and quick to say, "Sure, honey, whatever you want to do is fine with me."

After we married, and especially after the demands of four children began eating huge chunks out of my allotted twenty-four hours, I learned to be more honest about how I wanted to spend my time. But too often that honesty translates to selfishness.

One of Ken's favorite ways to kick back is watching movies. But he really prefers that I watch with him. Unless we're going to the theater, and popcorn and Reece's Pieces are part of the deal, I'd much rather spend my free time reading a novel, working on my computer or looking through magazines.

I've learned that if I bring my laptop or magazine to the family room with Ken, I accomplish what I desire, while still fulfilling my husband's need for me to spend that time with him. It's a compromise that makes us both happy. We've learned to apply that same principle to many situations.

But what happens when we strongly disagree about how our time will be spent and no compromise can be found? Without some serious communication, conflict is inevitable. A recent afternoon was proof of that.

Ken had a few days off from work and we'd agreed to make a trip into a nearby city one day. In the car on the way, it became clear that my husband and I had completely different ideas of what our day would hold. I had mentioned that I needed some new clothes for an upcoming trip—something he surely understood was a full day's pursuit.

He, however, had visions of me coming with him to the garden center to pick out some stone for a backyard project he was working on. I think he intended to drop me off at the mall afterwards, an hour or so before the stores closed.

Ken hoped to see a movie. I thought he would go to the movies by himself while I tried on clothes. He wanted a sit down dinner. I only wanted ice cream. And it went downhill from there.

At the end of the day, the only thing we agreed on was that we needed to find a better way to plan our next trip together. We decided that communication is the key—as it is in virtually every area of marriage. Lack of communication was the reason our trip was such a disappointment. Okay, I cannot tell a lie. The day ended up working out pretty well for me. In less than three hours, I found the perfect pair of black pants, a fabulous jacket that was on sale, and still had time for a pedicure!

Ken, unfortunately, didn't have such success. The garden center was closed, the movie started too late and we ended up eating fast food. In spite of his wasted day, my husband was genuinely happy for my success. But his disappointment put a real damper on my delight—as it should have.

Our day held a good lesson for me. When we are living out our marriage vows as we should, we will find joy in each other's successes, even when it means sacrifice on our part. But we will also share each other's failures and disappointments and find their sting diminished, simply because someone understands how we feel and is disappointed along with us.

I'm thinking on our next excursion, I will happily go out of my way to see that Ken gets to do every single thing on his list.

Discussion:
Read Philippians 2:1-4 and Ecclesiastes 3:1-14
• The Bible is clear that we are to put others before ourselves. Philippians 2:3, 4 is very specific: we are to consider others better than ourselves, and to look out for their interests, and not just our own. How does that look in your marriage? Do you think you are successful in putting your spouse's needs before your own?

• What are ways you and your spouse can compromise when it comes to deciding how you will spend the time you have? What tradeoffs could you each make that would help your spouse feel you are putting his/her interests before your own?

• Ecclesiastes famous verses testify that there is a time for everything. In marriage, the conflict sometimes arises when the time to weep and time to laugh, time to keep and time to throw away, time to be silent and time to speak, come at a different point for the husband and wife. How can you honor your spouse's "time to laugh" if it happens to come during your "time to weep?"

• Consider sitting down with your spouse and your calendars and talking about your individual expectations for the coming weeks and months. Discussing your different desires and making a list of goals can help you come up with a game plan that allows time for each of you to do some of the things on your wish lists.

• Why do you think it is wise to continue to find things you enjoy doing together? How can you avoid each going your separate ways more often than you spend time together?

• If you have children, how do you think your time management as a couple affects them?

• How can you honor God by the way you spend time together?

• Pray that God will give each of you the courage to lovingly make your needs and desires known, and the heart to put your spouse's needs above your own.


---
Deborah Raney is at work on her nineteenth novel. Her first novel, A Vow to Cherish, inspired the World Wide Pictures film of the same title. Her books have won the National Readers' Choice Award, Silver Angel for Excellence in Media, and have twice been Christy Award finalists. Her newest series, the Hanover Falls Novels, will release from Howard/Simon & Schuster. She and her husband, Ken Raney, have been married for 35 years. They have four children, two little grandsons, and enjoy small- town life in Kansas. Visit Deborah's website at http://www.deborahraney.com.

Tobi Layton is a fifth grade teacher and freelance writer in southeast Missouri. Tobi has been married for eight years to Ryan Layton, a high school biology teacher. Tobi and Ryan are involved with the high school and junior high youth groups at their church in Cape Girardeau, Missouri. The Laytons have two sons.

Tobi Layton is the daughter of Ken and Deborah Raney. The Raneys and the Laytons share an August 11 wedding anniversary.